World's #1 finishing resource since 1989
No login needed: Chime right in
topic 59418
Passivation after black oxide?
October 1, 2013
Q. Hello,

I feel foolish asking this question but here it goes. I'm having some 303 stainless steel parts sent out for black oxide. Though the parts have gone through this process is safe to say that passivation is no longer needed? Further more what would be my end result if I were to passivate parts that have been black oxided? I'd like to try it out but then again why waste time and money when I can get an expert's opinion.
JAY Albertson
Student - Manhattan Beach, California, USA
---
October 8, 2013
A. Jay,
I'm not a black oxide guy but my general understanding is that a proper black oxide coating should already be passive. You may want to ask the question of the shop that will be doing the job for you.

If any passivation were to be done after black oxide, I suspect that citric acid would be better as nitric acid would have a stronger potential to eat right through the black oxide coating.

Ray Kremer
Stellar Solutions, Inc.

McHenry, Illinois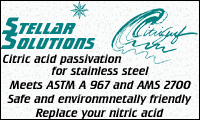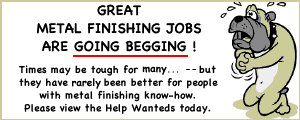 Plating Process Engineer [Wenatchee, WA]
Plating Supervisor [Chicago]
Plating Quality Inspector [Chicago]