World's #1 finishing resource since 1989
No login needed: Chime right in
topic 59415
EN plate on Sn film
September 28, 2013
Q. I am curious about the feasibility of plating electroless nickel (acidic with hypophosphite reducing agent) onto a thin (500A or less) evaporated Sn film.

Am I correct in assuming that the Sn surface will not be auto-catalytic for EN? If so, would it be possible to achieve a 5µm NiP film with the aid of a Pd activation step on the Sn surface?

This is a semiconductor application. Ideally any activating solution or strike would be compatible with positive photoresist.

Thanks very much.
Nick Wiswell
Graduate Student - San Luis Obispo, California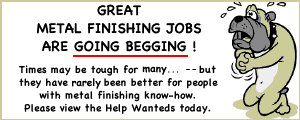 Plating Process Engineer [Wenatchee, WA]
Plating Supervisor [Chicago]
Plating Quality Inspector [Chicago]