World's #1 finishing resource since 1989
No login needed: Chime right in
topic 59393
Passivation of 300 Series Steel using ASTM A967 Nitric 1
August 28, 2013
Q. Figure X1.1 of ASTM A967 shows Nitric 2 and 3 as being the only recommended methods for austenitic 300 series grades of steel. Currently, I do not have an approved vendor for either Nitric 2 or 3 processes, only Nitric 1. My very limited research seems to indicate that Nitric 1 would merely be overkill for 300 series but not necessarily detrimental. What is the rationale behind Nitric 1 being not recommended for these grades of steel? Could it be detrimental?

Thanks in advance.
John Wooldridge
- Maumelle, Arkansas
---
September 24, 2013
A. John,
I don't have specific knowledge of the rationale behind the different nitric baths. I do know that playing mix and match with the wrong grade in the wrong bath can result in destroyed parts and/or a runaway reaction that produces a cloud of toxic fumes.

If you can test your parts in the Nitric 1 bath and are happy with the results, then go right ahead with it.

Of course citric passivation is always an option too, and you'll never have to worry about having the "wrong bath" with 300 grades in citric.

Ray Kremer
Stellar Solutions, Inc.

McHenry, Illinois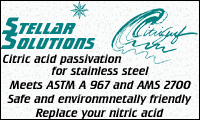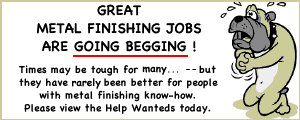 Junior Quality Engineer [Santa Clara, CA]
Plating Process Engineer [Wenatchee, WA]
Plating Supervisor [Chicago]
Plating Quality Inspector [Chicago]