World's #1 finishing resource since 1989
No login needed: Chime right in
topic 59386
Peeling detection Bake Process for Gold/Ni on Beryllium Copper - Time/Temperature?
August 28, 2013
Q. Hello - there are many opinions on a proper method of forcing blistering/peeling of Gold/Ni (per ASTM-B488) on Beryllium Copper. Ni is 50/200 microinches and gold is 50 microinches minimum. Some have a Copper Strike over the Beryllium Copper and not all BeCu is heat hardened.

A cable, strip or PCB line is typically soldered to these contacts at 230/260 °C and SN96.5. That is typically when we see the issue of blisters form.

We have one person saying bake all contacts at 135/150 °C for 1 hour then inspect for blistering and another saying 180 °C ±5 for 20 minutes.

We are concerned the higher temperature for 20 mins. will facilitate Ni bleed-through but we are also concerned that the lower temperature is not enough even at 1 hour.

Opinions on this or better detection method? Tape tests not viable - small diameters.
Daryll Saunders
Director of QA - Beverly, Massachusetts, USA
---
August 30, 2013
A. Normally 135/150 for 1 hr. would be good per Mil-G-45204 (AQL) but you probably need a higher temp. test due to your application. I would consider testing the parts (sample basis) in a way that mimics the actual process and then inspect. In fact, it would be best to go to 280 °C to allow a safety margin. If your soldering process is 5 mins. or less, that can be the duration of your testing or you can go a bit longer to allow a safety factor. Your nickel is a little thin if only 50µ" considering the temperatures involved, especially if you are soldering to hard gold.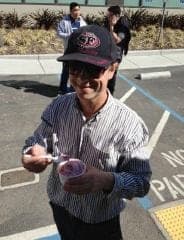 Blake Kneedler
Feather Hollow Eng. - Stockton, California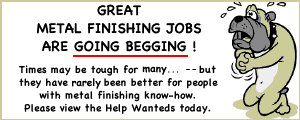 Junior Quality Engineer [Santa Clara, CA]
Plating Process Engineer [Wenatchee, WA]
Plating Supervisor [Chicago]
Plating Quality Inspector [Chicago]