World's #1 finishing resource since 1989
No login needed: Chime right in
topic 59374
Problems with chemical coloring in automatic line
August 13, 2013
Q. Dear Sir,
I use chemical coloring in automatic line to color into gold anodized aluminum parts (chemically polished). The process is carried out correctly, but the parts from the lower rack are darker than those from the top. The rack length = 1 meter, and the coloring time = 45 seconds. The lower part enters and leaves the bath in additional time of 5 +5 seconds. What can be the problem?
Is the coloring bath too strong, or too fast?
Karolina Potocka
electroplating - Bydgoszcz, Kujawsko-Pomorskie, Poland
---
August 14, 2013
A. Check the thickness from bottom of rack to top of rack. If the bottom is thicker, then it is adsorbing more dye, then experiemnt with shielding until you can get uniform thickness all over the rack.

Robert H Probert
Robert H Probert Technical Services

Garner, North Carolina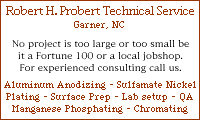 ---
First of two simultaneous responses -- August 15, 2013
A. 3 things come to mind:

1. Parts on the bottom of the rack are getting a thicker coating (are you using a lead-lined tank by chance?)

2. Parts on the bottom of the rack are overheating during anodizng, causing larger pores, resulting in more dye absorption.

3. Uneven dye tank temperature (bottom of the dye tank is hotter than the middle/top). Easily solved by agitation/filtration.

45 seconds is way too fast in my opinion, it does sound like your bath is too strong. If the bottom part of your rack is in the bath for an additional 11% of the total dye time, I would think this definitely could be an issue with such a short dye time.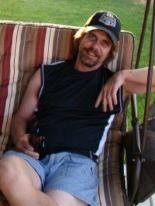 Marc Green
anodizer - Boise, Idaho
---
Second of two simultaneous responses -- August 15, 2013
A. Karolina

If I read your post correctly, the bottom of the rack is seeing up to 25% longer dye time which could easily account for the variation. A longer immersion time will help reduce the variation but you will likely need to adjust the dye bath parameters to achieve the desired color.
Willie Alexander
- Colorado Springs, Colorado
---
August 19, 2013

Thank you all for your help. I'll follow your advice and try to fix the problem.

Kind regards
Karolina Potocka
- Bydgoszcz, Poland
---
---
September 9, 2013
Q. My customer produces door handles; he uses AlMg3 alloy which consists of:

[(Fe0,07)(Si0,05)(Cu0,005)(Zn0,003)(Ti0,14)(Mn0,006)(Mg2,98)(Ni0,006)(Sn0,000)(Pb0,002)((Be0,004)((Cr0,001)(Al96,7)]

The heat/melt is low-pressure.

Unfortunately, the parts cannot be electropolished (sulfuric acid, phosphoric acid, 95 °C) and anodized.

After anodizing the parts are porous, coarse and do not shine.

The parts made of cold-drawn aluminium do not cause such problems.

Is it the matter of alloy composition? Is there any component missing?

I would really appreciate your help.
Karolina Potocka
electroplating - Bydgoszcz, Kujawsko-pomorskie, Poland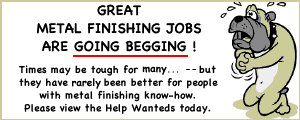 Plating Process Engineer [Wenatchee, WA]
Plating Supervisor [Chicago]
Plating Quality Inspector [Chicago]