World's #1 finishing resource since 1989
No login needed: Chime right in
topic 59362
Effects of oil and grease on the GAC filters in wastewater treatment plants
July 29, 2013
Q. Hello. I have a question about effects of oil and grease on the GAC (granular activated carbon) filters in wastewater treatment plants:
What is the effect of high levels of oil and grease on the GAC filters? Is it only physical clogging (like a coating on the surface of granules) or/and adsorbtion?
If it is like a coating or clogging, what is its way to remove this coating?
Thank you so much.
Moo H
- Isfahan, Iran
---
July 31, 2013
A. Oil will clog up you carbon very rapidly. Consider a prefilter that agglomerates the oil and keeps it away from your carbon. There is no cost effective way to regenerate your oily carbon.
James Watts
- Navarre, Florida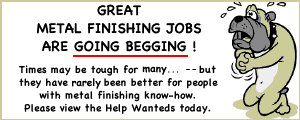 Plating Process Engineer [Wenatchee, WA]
Plating Supervisor [Chicago]
Plating Quality Inspector [Chicago]