World's #1 finishing resource since 1989
No login needed: Chime right in
topic 59361
Replating on hard chrome & S143
July 30, 2013
Q. Hello,
I hope someone can help with this.
I am the plating chemist at an aerospace sub-contractor, and our chrome plater has a problem replating HC& and S143 stainless steel alloys, The components had to be re worked for dimensional reasons then stripped and replated in a standard hard chrome bath of chromic acid and sulphuric acid only, with no catalyst, to DEFSTAN 03-14. Other low alloy components are re-plating fine when they need it. We used to have a CR110 hard chrome vat, but changed it too the one described above when we could no longer get CR110 salts from Atotech here in the UK. Is there any etching regime we could employ to overcome this problem, our do we need to put in a catlysed chrome bath?
All components get alkali etch and sulphuric anodic etch first then reverse etch in the chrome bath before plating.
Mark Lees
Works chemist - Ballasalla, Isle of Man, Great Britain
---
First of two simultaneous responses -- July 31, 2013
A. Consider using a Woods Strike just before the chrome tank. Another option might be to give it a short reverse in the chrome tank before forward plating.

Exactly what is the problem??
James Watts
- Navarre, Florida
---
Second of two simultaneous responses -- August 1, 2013
A. Hi Mark,

First of all HC steels and S143 are not low alloy steels, they are corrosion resisting steels with elevated levels of chromium and nickel. These materials are harder to activate than low alloy steels.

You haven't actually told us what exactly your problem is, are you getting no plating, poor adhesion, pinholes, uneven build up...?

You also need to share, as much as possible the chemistry of the process you are using, including the pre-treatments. Include temperatures, times, voltages and current density.

Armed with the above information I am sure we can give you a workable solution without the need to add a catalyst to a standard tank.
Brian Terry
Aerospace - Yeovil, Somerset, UK
---
August 12, 2013
Q. Thanks for you interest in my problem.
I will try to flesh it out some more. The pretreatment is anodic alkali cyanide etch, 5 V 2 mins, sulphuric etch 5 V 30 secs. The current density is approx. 2 amps/in2, the plating runs at 55 °C for 30 mins. It's the high chrome steels, HC7 and S143, that won't plate twice (i.e., rework). I have since tried a 30%v/v HNO3: 2.5%v/v HF for 4 mins (no current), instead of the sulphuric anodic etch, this has helped but the chrome still does not throw into the most shielded areas. The low alloy replate with no problem when they have too. We have another site in our group of companies who also do the same sort of work, they report no problems, but when we have inspected their components we suspect that they are doing a nickel strike first. Our reluctance to try that is that it is not mentioned in the spec for this job as an option, but then neither does it say don't do it!
Anyway,
Mark Lees
- Ballasalla, Isle of Man, Great Britain
---
August 14, 2013
A. Hi Mark,

As you are plating to DEF STAN 03-14 I suspect the cleaning call up is in accordance with DEF STAN 03-2, in which case Method W, nickel strike is a valid process. I would personally strike stainless and corrosion resisting steels, this doesn't improve throwing power, but does improve adhesion.

Where you are having problems with throwing into low current density areas you will need to look into your anode arrangement and if these are very recessed then you'll need to consider shaped conformal anodes to ensure the current gets to where it is needed.
Brian Terry
Aerospace - Yeovil, Somerset, UK
---
August 21, 2013
A. I have had similar problems plating chrome on nickel after I stripped the chrome off. Flashing at 4+ ASI has worked for me to get the chrome to cover all of the previously stripped nickel. Anode design could help too, but increasing the amps is easier.
Mark Robison
- Ogden, Utah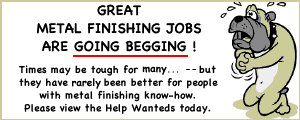 Junior Quality Engineer [Santa Clara, CA]
Plating Process Engineer [Wenatchee, WA]
Plating Supervisor [Chicago]
Plating Quality Inspector [Chicago]