World's #1 finishing resource since 1989
No login needed: Chime right in
topic 59354
Hot Forged Components Have Black Spots That Don't Get Clean and Don't Plate
July 21, 2013
Q. We have an alkaline zinc plating unit.
We are having issues with Hot forged components; after being plated they have dark black spots, which have neither been cleaned and/or plated in the process.
Scaling have been done by Shot blasting of the forged components.
Is it due to the carbon on the components? Or due to the die oil used?
Have we to use any acid inhibitors?
Could anyone help please -- having a lot of rejections/rework.
Sandra Kulkarni
- Karnataka, India
---
July 31, 2013
A. Hello Sandra,

Do you degrease the parts before putting them in acid? Tell us about your process (tank by tank before zinc plating), and if you have electrolytic degreasing as well. If you do so we may be able to help you.

Good luck!
Daniel Montanes
- Canuelas, Buenos Aires, Argentina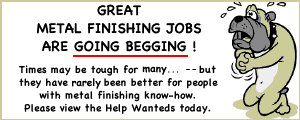 Junior Quality Engineer [Santa Clara, CA]
Plating Process Engineer [Wenatchee, WA]
Plating Supervisor [Chicago]
Plating Quality Inspector [Chicago]