World's #1 finishing resource since 1989
No login needed: Chime right in
topic 59351
How to verify that anodizing is completely stripped?
July 24, 2013
Q. Hellow,
I am trying to remove the anodized layer of aluminum part, and apply chemical conversion coating again.
And I must verify & prove that the anodic layer is completely removed.
But, the part is already in assembled condition.
So, I am going to remove the anodizing by manual sanding.

Therefore, we are looking for a portable inspection method.
Is there anybody who can help me?
Dong-Cheol Park
- Busan, South Korea
---
July 26, 2013
A. Hi.
I normally check with a multi meter. Since an anodized coating is non conductive, a well stripped anodized piece would show conductivity.
SK Cheah
- Penang, Malaysia
---
July 30, 2013
Q. Thank you. SK Cheah.

Multi-meter can check on point to point locations.
But, I need to verify the entire stripped surface as requested by my customer.

Is there any detection solution for the above purpose ?

Thanks in advance !
Dong-Cheol Park
- Busan, South Korea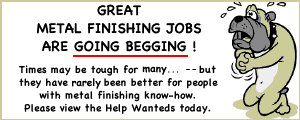 Junior Quality Engineer [Santa Clara, CA]
Plating Process Engineer [Wenatchee, WA]
Plating Supervisor [Chicago]
Plating Quality Inspector [Chicago]