World's #1 finishing resource since 1989
No login needed: Chime right in
topic 59350
Coating for polyisoprene elastomer
July 23, 2013
Q. Our company produces several components molded from polyisoprene elastomer. For those of you familiar with polyisoprene, it is a very tacky material. A secondary process is employeed to create a non tacky surface on these molded parts. This process is chlorination. However, there remains a strong level of available chlorine on the surface of the parts, so much so, that as we cut parts either by slitting through a membrane, or cutting the parts from the associated molded pad, this chlorine attacks the metal surfaces. Typically a 316 series SS is use anywhere metal needs to come in contact with chlorine, but for the cutting processes, 316SS is not a via option. Does anyone know what type of coating / plating could be used to prevent this oxidation of our cutting tools?
Doug Cumpston
- Griffin, Georgia, USA
---
August 9, 2013
A. Hi Doug,

As no-one else has given this a go let me throw something very speculative out there to you.

Would it be possible to wash the polyisoprene parts after they have been cut in a solution that will convert the chlorine into insoluble chlorides (e.g. silver nitrate solution)? You then wash the parts in water to remove the precipitated chlorides off before assembly.

As I say this is very speculative, but it is somewhere to start.
Brian Terry
Aerospace - Yeovil, Somerset, UK
---
First of three simultaneous responses -- August 9, 2013
A. PVD coatings like TiN, TiC, TiCN, DLC etc are worth trying. In addition to avoiding corrosion you would be increasing the life of the cutting tool.
H.R. Prabhakara
- Consultant
bangaloreplasmatek.com - Bangalore Karnataka India
---
Second of three simultaneous responses -- August 10, 2013
A. Hi Doug
Poly-cis-isoprene is the principle component of natural rubber. It can be hardened by heating in the presence of sulphur or some sulphur compounds. This is the well known process of vulcanisation.
Poly-cis-isoprene is also the basis of a range of photo resists due to its ability to cross link under ultraviolet light.
You might also consider dusting the surface with talc if this is acceptable in the final product.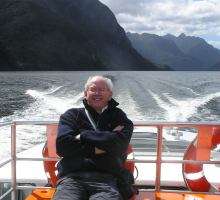 Geoff Smith
Hampshire, England
---
Third of three simultaneous responses -- August 11, 2013
A. A PVD tool coating such as TiN or other should give longer tool life. There are coating services in many areas of the country.
adv.
Oerlikon Balzers Coating Services has many coating centers so you might want to ask them.
John Carlotto
E. Providence, Rhode Island
---
August 12, 2013

Brian,
Thanks for your response. I will check with our chemists to see if this is a potential solution and will let you know.

once again, thanks!
Doug Cumpston
- Griffin, Georgia, USA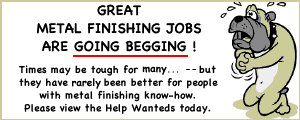 Junior Quality Engineer [Santa Clara, CA]
Plating Process Engineer [Wenatchee, WA]
Plating Supervisor [Chicago]
Plating Quality Inspector [Chicago]