World's #1 finishing resource since 1989
No login needed: Chime right in
topic 59334
Surfaces must be free of 'imperfections' ... but what does that actually mean?
July 11, 2013
Material AL ALLOY 6061-T6/T6511; regarding: visible surfaces must be free of die marks and other imperfections. Aside from FED-STD-245/ANSI-H35.2, what specific specification apply to this material when an extrusion. Imperfections, what spec is there to apply or define imperfections for this material? Die marks are defined but imperfections is too vague. Does it mean, voids, coloration, inclusions?

The area of aerospace is highly critical cosmetically as are functional properties.
Yolanda Craft
aerospace - Santa Maria, California USA
---
July 15, 2013
A. Hi Yolanda,

I think you need to go back to your specific customer and see if they have a definition or someone from the customer could give you an interpretation of what is meant.

It is difficult for the rest of us to advise, because what is acceptable to me may not be acceptable to say Ted or James or any of the other regular contributors.
Brian Terry
Aerospace - Yeovil, Somerset, UK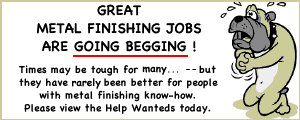 Plating Process Engineer [Wenatchee, WA]
Plating Supervisor [Chicago]
Plating Quality Inspector [Chicago]