World's #1 finishing resource since 1989
No login needed: Chime right in
topic 59326
Achieving thick copper layer on aluminium without electroplating
July 3, 2013
Q. Hi all, I want to plate a thick-ish layer of copper by galvanic displacement, as a barrier lining material, onto aluminium surface. I do this by dipping the aluminium piece into a copper sulphate solution (would copper chloride work too? I heard that chloride can create pits on aluminium). I'd like to ask the community here for a recommendation for the following:
1. Pre-treatment of the aluminium surface.
For removing aluminium oxide, I read that alkaline etching (using Na2SO4) can be done?

2. Thick (>1 micron) copper.
A layer too thin (hundreds of nanometers) is not suitable. I understand that for galvanic displacement plating, once all the aluminium surface is covered, the plating would stop. How do I achieve the thickest possible copper within this limit?

Alternative option is to do electroless copper plating on top of the galvanic copper. Can anyone suggest a good (non-toxic) way to plate more copper on top? I prefer not to use electroplating. Unless someone has a good argument for using electrolytic plating at all?

Thanks in advance.
Norbert Sigwarth
- Germany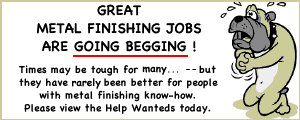 Junior Quality Engineer [Santa Clara, CA]
Plating Process Engineer [Wenatchee, WA]
Plating Supervisor [Chicago]
Plating Quality Inspector [Chicago]