World's #1 finishing resource since 1989
No login needed: Chime right in
topic 59321
Type 2 Anodizing at Ambient Temperature
June 25, 2013
Q. This past winter we discovered an error in our testing method of our anodizing chemistry and corrected our tank chemistry. This action brought our concentration from 15 oz/gal to 23 oz/gal. Everything seemed to be working better than it had in the past. Now that summer is here, our anodizing tank temperature is no longer ambient and the temperature has gone from the mid 60s to mid 80s. There is not cooling equipment on our tanks. With this increase in tank temperature, we are now seeing our cathodes fizz and our parts are coming out with uneven thicknesses, powdery finishes and smaller diameters than when we put them in.

Could this double upward swing in temperature and concentration create a situation where we are removing more anodize than we are putting on? If so, since I can't control the temperature, should I revert to our old operating conditions of 15 oz/gal (we have had moderate success in the past at this concentration but have had run longer to get desired dimensions/thicknesses). I have also tried increasing the current density from 10-15 ASF to 20-30 ASF with minimal success.
Justin Brooks
- Davenport, Iowa, USA
---
First of three simultaneous responses -- July 5, 2013
A. Whether at 15 or 23 the solution will heat up, faster heating at 15 and less heating at 23, but you cannot do quality anodizing without constant temperature control. Total watts and concentration affect the rate of heating. The cathodes are "fizzing" because at the higher acid and higher temperature they are DISSOLVING. The thickness is not uniform because, anyone who would anodize without a chiller, also probably does not have uniform balanced agitation. Forgive me for tone, but other people reading this need to be reminded of what happens without temperature control and uniform agitation.

Robert H Probert
Robert H Probert Technical Services

Garner, North Carolina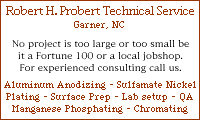 ---
Second of three simultaneous responses -- July 5, 2013
A. The etch rate of the acid on both the anodize and the parent metal is controlled mainly by temperature and concentration. Tramp ions like chloride can have an effect also.

80 is just too high a temp for even the lower concentration.

An additive might help, but I would not bet the company on it.

For temp control on another tank, we put a couple of coils 3/8" OD polypropylene tubing in cut off 55 gal drum in a second hand chest freezer. The drum was filled with water and would freeze over the weekend. We used a small intank pump to pump the plating solution thru the coil and empty back into the tank. We did not turn the pump on until cooling was needed There was a manual ball valve in the return line that we could partially close until the tank started warming up. Do NOT shut the valve off with the pump running or you may blow a fitting.

It is ugly, but effective and affordable.
James Watts
- Navarre, Florida
---
Third of three simultaneous responses -- July 8, 2013
A. Hi! Justin,
It is true that Type 2 anodizing needs ambient temperature, but it still requires cooling, especially if you are going to be running back to back loads.
Even a small tank of about 850 litres solution running a load of about 10-12 sq.feet ( Type 2 - 10- 20 microns coating thickness target ), will rise in temperature by 1.5 to 2 °C, after every batch.
It will be impossible to maintain quality control without cooling the solution intermittently.
Hope that helps.
Ravi Rao
- Belgaum, Karnataka, India
---
July 29, 2013
A. Bob hit the nail on the head . If you want to do quality consistent anodizing you cannot do it with a battery charger and ICE. Either move up Or give it up. I too am sorry for the tone but this story could be a recording!!!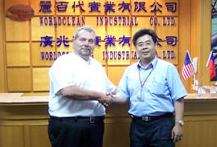 Drew Nosti, CEF
Anodize USA

Ladson, South Carolina

---
July 30, 2013
A. James and Ravi are correct. They speak words of wisdom. I would focus on their comments. Good luck.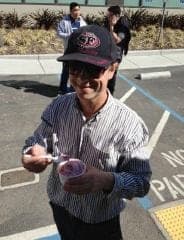 Blake Kneedler
Feather Hollow Eng. - Stockton, California
---
August 6, 2013

Thanks all for your responses. I pumped one of my anodizing tanks into a hardcoating tank and set the temperature. All my problems went away, aside from my capacity being halved.

Thanks again!
Justin Brooks
- Davenport, Iowa, USA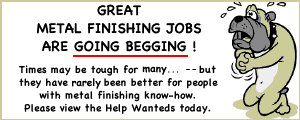 Junior Quality Engineer [Santa Clara, CA]
Plating Process Engineer [Wenatchee, WA]
Plating Supervisor [Chicago]
Plating Quality Inspector [Chicago]