World's #1 finishing resource since 1989
No login needed: Chime right in
topic 59319
Laser dross removal seems more difficult if delayed
June 30, 2013
Q. Hi,

I have an ultrasonic pickling process to remove laser cut dross from spiral cut tubes.

I have noticed that if parts are left queuing for longer than normal prior to pickling it can be more difficult to remove the dross.
I would be interested from a metallurgical point of view what happens dross with time
which makes it more difficult to remove?
Alan Tobin
- Ireland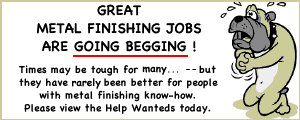 Plating Process Engineer [Wenatchee, WA]
Plating Supervisor [Chicago]
Plating Quality Inspector [Chicago]