World's #1 finishing resource since 1989
No login needed: Chime right in
topic 59305
Automatic cadmium plating line doesn't give coverage on inside corners
June 19, 2013
Q. I work for a large aerospace company in England in the plating shop. For 12 years I worked with l/h cadmium until the beginning of 2011 when I was taken off the job because of the high level of cadmium in my body. It was a manual line.
My question is: the powers that be bought a £60000 automatic line that they cannot get to work; they can't get proper coverage of cad onto the parts when they have corners to cover whereas on the manual plant there was no problem. Two things that are different between the manual line and auto line are:
Power -- maximum power on manual line is about 20 volts; auto line power 10 times the manual line power.
Next -- when plating manually we use rocker agitation; on auto line they use solution agitation.
Any help on this would be great thanks. This auto line was put in in 2012, and been trying to get it to run since March 2012.
Andrew Thomas
- stoke on trent, England
---
June 21, 2013
A. Hi Andrew. Something didn't come through quite properly as you can't possibly be plating at 20 volts times 10, or 200 volts.
But I don't think that either the plating voltage or agitation method are the heart of the problem. The parts seem to not be racked adequately for coverage in the low current density area. I think the thing to do is either call in a plating consultant (which costs money) or seek help from a local plating rack supplier (who may tell you the racks supplied with the machine can't work without changes) or see if you can get your plating process supplier to offer some advice. Good luck.
Regards,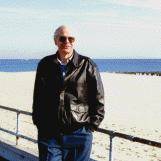 Ted Mooney, P.E.
Striving to live Aloha
finishing.com - Pine Beach, New Jersey
---
July 4, 2013
Q. Hi my name is Andy I work for a aerospace company in the UK I've posted a question about the auto cad line that the company is trying to introduce. Ted replied to my question. At the moment we use a manually operated system with no problems -- we get good over all coverage on the parts. As for the auto line this is not happening. Example: in the manual vat we plate a job that has 12 parts (but are classed as pairs so it equals 6 parts), the plating process is a 60 sec strike at 90 amps per pair = 540 amps; then plate for three minutes at 32 amps per pair = 192 amps; then turn parts to remove jigging marks and repeat process again; total time 8 minutes. Have tried same operation on auto line but just cannot get total coverage on parts. The job is what we call a hub. Simply put, like a flats round face with center stem about 3 inches high; the problem area is at the bottom of the stem.
Andrew Thomas
- England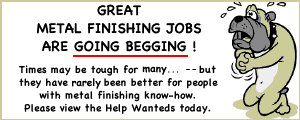 Junior Quality Engineer [Santa Clara, CA]
Plating Process Engineer [Wenatchee, WA]
Plating Supervisor [Chicago]
Plating Quality Inspector [Chicago]