World's #1 finishing resource since 1989
No login needed: Chime right in
topic 59298
Delamination between copper plated layers
June 10, 2013
Q. We had copper to copper delamination problem on chrome plated part.
There was no down time (power outage) but copper to copper blister problem has occured.

Rack tension was poor so some parts were falling off during the copper plating.

The racks were replaced with new ones.

As I know, Bipolar effect can cause copper to copper delamination problems in Acid copper bath.

Is there anyone who can clearly explain this Bipolar phenomenon and theory?

Thank you
Richard Kim
- Michigan, USA
---
June 18, 2013
A. If you are plating a rack of parts and one or more go dead for any reason the dead ones will go Bi-Polar. That is since they are within the fields the side of the part closest to the anodes will continue to be negatively charged but a lamination MAY or MAY-NOT occur on that side of the part. The opposite side of the part will become positively charged and actually deplate. If the current goes on and off many times during the cycle there will be many layers of plating.
Russ Richter
- Danbury, Connecticut, USA
---
June 20, 2013
A. It is not clear what your process is, but since you are apparently plating two layers of copper I am guessing that you have an alkaline copper strike, followed by an acid copper bath. If this is the case, then you may need more thorough rinsing between the two copper plating steps. In general, the surfactants used in the alkaline baths are no compatible with acid copper baths.
Lyle Kirman
consultant - Cleveland Heights, Ohio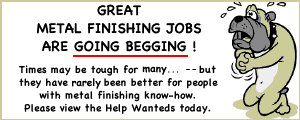 Junior Quality Engineer [Santa Clara, CA]
Plating Process Engineer [Wenatchee, WA]
Plating Supervisor [Chicago]
Plating Quality Inspector [Chicago]