World's #1 finishing resource since 1989
No login needed: Chime right in
topic 59292
Hard Anodic Coating Not Building Up Sufficiently
June 5, 2013
Q. Operating conditions:
Hard anodizing as per MIL-A-8625-REV. F, Type III, Class 1
Aluminium 6061-T6
thickness of anodic layer: 80 microns
nickel acetate sealed after hard anodising
sulfuric acid bath maintained at approx. 150-180 G/l
aluminium content : around 15 g/l
temperature: 0 - minus 10 °c
current density : 24-30 asf
75v, 70 minute normal cycle.

Problem: coating thickness not building up beyond 50-55 microns with new lot of raw material received from the mill.

Chemistry tested okay for 6061-T6 GRADE WITH ALL CONSTITUENTS IN PROPER RANGE.
In fact this is the second time in a couple of years that I am facing such a problem and am pretty much sure that it is the raw material that is the culprit! But, what is the problem? Absolutely no idea and nobody I talked to seems to know either!

Previous supply of raw material builds up perfectly fine to 80 microns in the same bath when anodised along with the new lot! So it is definitely not the bath!

Tried increasing the current density to 35 ASF and yes, it did marginally improve to build up around 60-65 microns but that is it, it will not go beyond that even if I "hold" the cycle for longer durations. Even tried for 105 minutes total time.

So, current density seems to affect it, but the 6061-T6 grade is perfectly in range as far as chemistry is concerned!
Will be highly obliged if anyone on the forum could throw some ideas on this one !
Sincerely appreciate any help !
Ravi Rao
Business Owner-Mechanical Engineer - India
---
June 6, 2013
A. Hi Ravi,

All things being equal have you checked that you actually have the 6061 in the T6 condition? Surprisingly the temper condition of the material can have an effect on the thickness of anodize obtained.
Brian Terry
Aerospace - Yeovil, Somerset, UK
---
First of two simultaneous letters -- June 7, 2013
A. As Brian correctly stated, different heat lots will definitely anodize differently. A couple of suggestions:

1. 15 gr/lt of Al is too high for a good hardcoat. I would limit to 10 or less, just as a general practice.

2. You can let it go for longer than 105 minutes. Obviously your current will drop off, slowing the growth rate ... but you will get there.

3. Use Al racking, and if possible, bolt into the parts.

With some heat lots, really, the only thing I've found to do in situations like this is to just let it go longer in the tank. By chance, did you check if this particular lot of material came from the same Al manufacturer as the parts that are anodizing well for you?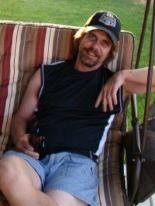 Marc Green
anodizer - Boise, Idaho
---
Second of two simultaneous letters -- June 7, 2013
Q. Hi! Brian,
Thanks a lot for your valuable input.I have a follow up query.
How does one test for the correct temper ?
Does testing for the physical properties like tensile,yield and elongation and comparing with the spec values for the T6, qualify as a proper test? - or is there anything else....?
This problem had bothered me for a long time even the last time it had occurred - thanks to you, now at least there is a direction to my future efforts.
It is going to be one helluva job to convince the mill on this one, without some sort of third party testing evidence.
As Sherlock Holmes would have said, after all the possibilities have been eliminated, what remains, however improbable though it may be, must be the prime suspect !
Ravi Rao
- Belgaum, Karnataka, India
---
June 10, 2013
A. Ravi

Consider taking some of your material or parts and having it annealed, re-heat treated to the T6 temper, and then anodize.
Willie Alexander
- Colorado Springs, Colorado
---
June 12, 2013
A. Hi Ravi,

You could do as Willie suggests, it's a good starting point.

To test whether you have the right temper state you can check the hardness and/or conductivity. The hardness and conductivity change per temper state. There are some cross-over values so some caution is needed in interpretation, but done properly you should be able to determine temper.
Brian Terry
Aerospace - Yeovil, Somerset, UK
---
June 12, 2013

Thanks Marc, Willie and Brian,
All the tips are very much useful for my further trials.
to comment on all the tips in one message...
1 yes, aluminium is from the same manufacturer
2 I use titanium racking, since I found stripping the racks frequently was not very user friendly for continuous production...tried rubber wraps around the al-racks for some time but the organics in the rubber started messing up the tank...so Ti it was...unless one of you has found a way to continuously use aluminum racks -- please elaborate.
3 will keep longer than 105 minutes and try out
4 hardness and conductivity test - will start as a standard procedure from now on and keep observing.
5 reheat treatment - will try out as a trial - but would not be able to process entire lots -- expensive !
Thanks again ... will post my findings as soon as results appear
Ravi Rao
- Belgaum, Karnataka, India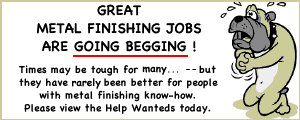 Junior Quality Engineer [Santa Clara, CA]
Plating Process Engineer [Wenatchee, WA]
Plating Supervisor [Chicago]
Plating Quality Inspector [Chicago]