World's #1 finishing resource since 1989
No login needed: Chime right in
topic 59286
What chemicals can chemistry & art teacher safely apply to copper?
June 2, 2013
Q. I am a classroom teacher trying to create an integrated chemistry and art project. I would like to apply different chemicals to pieces of copper to create different colors. However, I am concerned that the resulting chemical reactions may produce harmful gases. What chemicals or solutions can I put on copper that will not be hazardous?
Laura Wick
teacher - Palmer, Alaska, USA
---
June 6, 2013
A. Hi Laura,

It may well be worth telling us what you have available to use. You really need to tell us what facilities you have (general classroom, science lab, art studio) so we can understand what conditions you are working under.

If you were to use concentrated acids in enclosed conditions you will create a myriad of hazards that would be unacceptable in a classroom, but would be acceptable in a science lab fume cabinet and with relevant personal protective equipment to prevent skin contact. If you were to use weak concentration acids (e.g. 1 mol/litre or less) you will have much lower hazards, but much slower reaction rates. So maybe you apply the solution and then come back in the next scheduled lesson and see if there has been a reaction.

I glad to see schools haven't become completely risk adverse and you are trying to show how chemistry can be used in our everyday lives, but as always it is a balancing act between true hazard and perceived hazard.
Brian Terry
Aerospace - Yeovil, Somerset, UK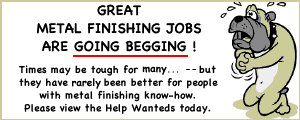 Junior Quality Engineer [Santa Clara, CA]
Plating Process Engineer [Wenatchee, WA]
Plating Supervisor [Chicago]
Plating Quality Inspector [Chicago]