World's #1 finishing resource since 1989
No login needed: Chime right in
topic 59275
Nickel-Cadmium Pocket Plate Battery Design Question
May 21, 2013
Q. Hi. This is my 1st post here.
In Ni-Cd battery, the mixture of Nickel oxide is loaded in a porous casement of Nickel plated steel (Pocket Plate). This casement is connected to the main terminal of the battery. If we charge the battery, does the nickel plated casement (Pocket Plate) take part into the conduction of current even if active material (Nickel Oxide) is not present in the porous pockets? I mean, the Nickel plated porous steel casement will cause a short circuit or not?
Please answer this question. Thanks.
Imtiaz Hussain
D-I-Y Ni-Fe Battery - Abu Dhabi, UAE.
----
Ed. note: readers who are interested in the electrochemistry and construction details of Ni-Cd pocket plate batteries will find
www.powersys.pl/pliki/nicd.pdf
and/or
www.alpha.com/Media/Documents/Lowmain%20Tech%20Manual.pdf
enlightening.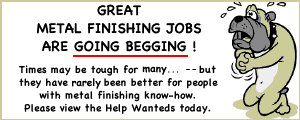 Plating Process Engineer [Wenatchee, WA]
Plating Supervisor [Chicago]
Plating Quality Inspector [Chicago]