World's #1 finishing resource since 1989
No login needed: Chime right in
topic 59272
Black engraving onto silverplate flatware
May 21, 2013
Q. Hi,
I have seen lots of hand stamped silverplated cutlery/flatware for sale on various internet sites. I would like to stamp some items myself for my friends wedding, but am worried about what patina to use to blacken the words. I don't want to use anything that may be toxic.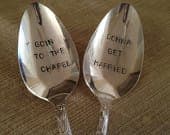 I use liver of sulphur on stamped jewellery, or just a sharpie pen, but as the cutlery would be used to eat off or stir cups of tea, I am worried that these patinas are toxic.
Can you please help with a safe patina to use.
Regards, Kylie.
Kylie Young
hobbyist - Ulladulla, NSW, Australia
---
June 12, 2013
A. I use a black tinted 2 part epoxy on most of the knives and such I make to fill in my mark and production information. It works wonderfully for me and doesn't have the risk of reacting with any food items.

Try it, it's the cheapest and most effective solution I've come up with yet.
Marc Banks
Blacksmith - Boone, North Carolina, USA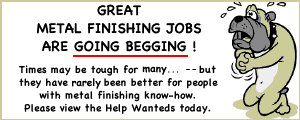 Junior Quality Engineer [Santa Clara, CA]
Plating Process Engineer [Wenatchee, WA]
Plating Supervisor [Chicago]
Plating Quality Inspector [Chicago]