Not a lecture hall but a roundtable with a seat for you!
60,000 topics spanning 36 years. Education, Aloha, & Fun
topic 59257
Can tin be nickel plated? Plating onto silver solder
A discussion started in 2004 but continuing through 2020
2004
Q. My problem starts out with, our company fabricates Invar waveguide filters that have Invar pins brazed (soldered) into them using a 95% tin and 5% silver solder, after the brazing process we wash off the water soluble flux residue and send them to a plater where they are to be cleaned and prep for a copper then silver plating and then they are sent back to us for further assembly.
My problem is the solder is being eaten away or crystalized at the fillets causing most or all of the filters not to perform when they are tuned to customers specs. They get what is termed as insertion loss. When we started sending product to this plater several years earlier we did not encounter any of these problems. Only over the last two or three years have we had a major problem with this fallout. The plater claims they have not changed any of their processes, times or chemical baths. I suspect that they changed to a stronger cleaning acid bath.
I would really like to hear your thoughts or anyone else's who might have had this or similar problems. Also, could you please inform me as to what it takes for a plater to go through their plating process for these types of parts?
Thank You for your time and Effort,
David Wayne Young
Manufacturing Fabshop - San Antonio, Texas, United States of America
---
---
April 30, 2013
Q. I'm working on a home-hobby and I have a question about nickel plating. My goal (hope) is to nickel plate a substrate of tin. I currently have a good amount of tin (star shaped) I want to use in building a battery. Nickel-Iron is my goal, requiring alkaline resistant plates. Does anyone know if the nickel will properly plate to the tin for longevity. Any input would be appreciated!
Neal Hammill
I'm doing it all! - Northeast, Pennsylvania, USA
---
---
Replating Norton Motorcycle foot pegs with silver solder on them?
July 27, 2019
Q. I have a similar question. I am trying to re-plate the foot pegs on a Norton motorcycle. I removed the chrome with hydrochloric acid and underneath there is a silver metal filling the pits which I have been told is probably silver solder. I have been down at the hardware store looking for silver solder and all I can find has either lead cadmium or tin in the mix. from online I know not to use lead or cadmium --but nothing one way or the other about tin. What do you think about trying to plate over silver solder with tin in it?
dirk murray
retired truck driver - meeker colorado
---
July 28, 2019
Q. The foot pegs for the Norton are cast steel, and are very poor castings -- hence the repairs from the factory. New stock foot pegs are available, and while expensive are way cheaper then the quotes I have gotten to have them professionally replated. I am not going to "show chrome" them (they were not that nice new). The plan is just to nickel plate them, and polish the nickel; in my opinion that looks nicer then chrome anyway.
From my reading online, it looks like people are nickel plating with just white vinegar and nickel strips to make the nickel solution. While I'm sure it's not a commercially viable process, it seems doable in a small batch like I am planning.
In the reply to my post, Wood's Nickel Strike is mentioned as necessary. In my previous reading nothing like that was mentioned, but they were just plating new steel. I am going to repair the deep pits with silver solder and just sand the small pits smooth which is what it looks like Norton did originally. I have sanded and filed the pegs and have gotten all the chrome, and most if not all the nickel off. I have priced Wood's Nickel Strike online, and it is very expensive $55 for 16 oz, is there a cheaper alternative? If I need to use Wood's Nickel Strike can I activate it with just a small part of the peg submerged at a time the pegs are 10" long and stick up 5" wide. the plating solution I plan on making will fill up most of a 5 gal bucket, which is way more Wood's Nickel Strike than I can afford.
dirk murray
[returning]
retired truck driver - meeker colorado
---
---
Bright nickel plating over silver bearing solder
August 7, 2020
Q. Hello everyone!

I'm a metal fabricator that frequently has items plated. These forums have helped immensely with my understanding of the plating process, so a big thank-you to all involved.
All the items I build are decorative, and it's important to get as 'perfect' a finish as possible. Here's my dilemma...

I have hazy solder joints on a piece that was to be bright nickel plated. I'm using silver bearing plumbers solder (approved by my plater). He says the hazing occurred because the part should not have been sent to the cleaning cycle with current applied. I'm having him strip the parts and I plan to compound buff them back to 400 grit for another try at bright nickel.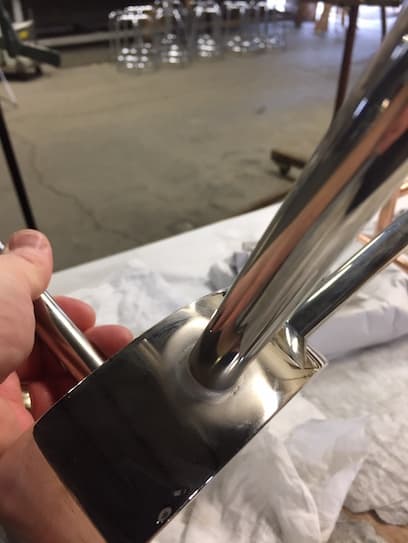 The parts are fabricated from cold rolled steel tube, tig brazed with sil-bronze filler rod, then the joints are filled with silver bearing solder.

Question 1: Is this solder acceptable or should I be using another type altogether.
Question 2: If this solder is good to use, is here anything that I can suggest to the plater to give him better odds of success?

Thanks everyone!
Johann
Johann Dunbar
- Toronto, Ontario, Canada
adv.