World's #1 finishing resource since 1989
No login needed: Chime right in
topic 59250
Electropolishing threaded bushings
April 19, 2013
Q. We are manufacturing threaded bushings (304SS, 3/4"-20 thread) which are subsequently electropolished. At the completion of machining, the bushings will pass gaging (GO - NOGO), however after electropolish they will fail (parts will thread into NOGO). We are clearly removing enough material to cause the parts to fail inspection.

My question is: Is it standard to machine threads 'oversize' and polish them into specification, or is our electropolish process out of control and we're simply removing too much material?

I'm just trying to focus my efforts in the correct place - developing a properly oversized thread or working more closely with the EP process.
Matt Krussow
Engineer - Leavenworth, Kansas, United States
---
April 19, 2013
A. Matt,

adv.
Send a few pieces to us. Please include the sample that you think is the optimal. I think we can help you with advice on how to properly electropolish-deburr without removing too much material. Referring to the testimony of one of our satisfied customer, who tested the Universal electrolyte (UE):

" My summary would be that UE has a larger plateaux region for polishing mainly due to the very narrow etching region. It is also more resistive since it requires a larger voltage to get the same current output.
Due to the fact that it is more resistive it is better for deburring as it reduces the amount of stock removal (material removal) on the flatter surfaces.

Electrolyte Material Removal as measured on the outer diameter (inch)
UE 0.00013
Other 0.00026 "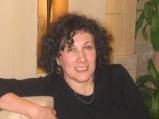 Anna Berkovich
Russamer Lab

Pittsburgh, Pennsylvania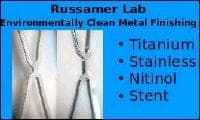 ---
---
Pre-Control threads before Electropolish
August 26, 2015
Q. I work for a company that uses Swiss Style CNC and CAM machines to produce large amounts of parts for clients. Our Clients range from Aerospace to Dirt bikes.

Our electropolish provider is an outside vendor.

I have a part made from 316 steel that looks similar to a bolt, I have pre-controlled the areas where material will be lost to the electropolishing process (.0002-.0004 total stock removal)

QUESTION:
Should I pre-control the threads in the same fashion I would with plating? (4x material loss/gain due to the shape and angle of the thread)
Or does electropolishing treat threads differently than plating? I am under the impression the "points" of the tread will have more material removed than the "valleys" - due to the electric current and how it passes through thin vs. thick materials.

The thread in question:
12-28 UNF-2A
Major dia. .2150-.2085
Pitch dia. .1918-.1886
Minor dia. .1724 max.

Any advice or instruction is greatly appreciated.
Rachel
Rachel Cates
CAD Designer/Engineer - Elhorn, Wisconsin USA
---
August 2015
A. Hi Rachel. Yes, electropolishing functions by dissolving asperities preferentially to troughs, although it's probably more closely related to current density in those areas than to their thickness or thinness.
My first choice, if it complied with specs, would probably be to mask the threaded area for electropolishing, and subsequently passivate it. My second choice would be to work closely with a prototype electropolisher like Russamer Lab [a finishing.com supporting advertiser] above, or a specialist in electropolishing technology like Metal Coating Process Corp. to see if it is possible to properly electropolish with an absolute minimum removal of material. Trying to make proper allowance for material removal from threads according to a generic formula would not be a preferred choice for me. The designers of airplanes and dirt bikes might be counting on the threads fitting really right, per the handbook, not just fitting without interference :-)
Luck & Regards,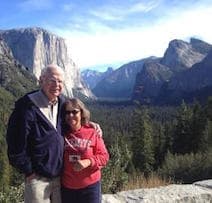 Ted Mooney, P.E. RET
Aloha -- an idea worth spreading
finishing.com - Pine Beach, New Jersey
---
October 28, 2015
A. Rachel,
I agree that the peaks will be most affected. However, due to the small amount of material that will be removed during the e-polish process, one method to confront the challenge would be to control the pre-polish thread dimensions as you suggested. Ted has a good idea regarding omitting the e-polish on the threads because the results of electropolishing threads may not be as expected due to some areas perhaps being slightly shielded due to the geometry. In order to control the pre-polish dimensions, one may adjust the nominal dimensions, as needed, and tighten the drawing tolerances but if the threads have to be tested with salt spray or similar high quality standards, defects may be avoided by using a more robust process for the given geometry. One might want to do some quality testing prior to confirming any process changes.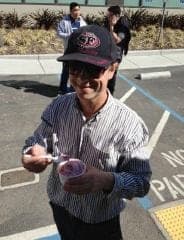 Blake Kneedler
Feather Hollow Eng. - Stockton, California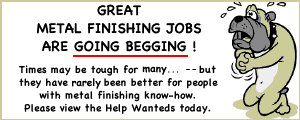 Plating Process Engineer [Wenatchee, WA]
Plating Supervisor [Chicago]
Plating Quality Inspector [Chicago]