World's #1 finishing resource since 1989
No login needed: Chime right in
topic 59243
Newly chrome plated aluminum bracket is tarnishing
April 7, 2013
Q. I design & fabricate custom motorcycle instrument brackets, and recently had a plating shop chrome plate a polished 6061 aluminum bracket for a custom project.
Just received an email from the customer expressing concern about a copper-looking spot on the bracket.
This is several weeks after sending out the finished part.
Although I'm leaning towards giving up on the plating and remaking the part in polished stainless, I'm wondering what's caused the tarnishing spot. Was the chrome just too thin, or was there some kind of surface contamination?
Tarnishing can be seen to the left of the recessed socket screw center left in photo.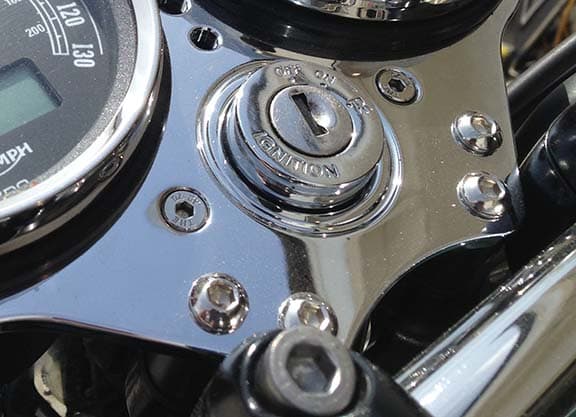 David Nyne
designer / fabricator - St. Louis, Missouri, USA
---
April 19, 2013
A. That looks like it was a problem with an intermediate step between the copper and chrome causing the area to not get plated correctly.

If I had to hazard a guess, it looks like that would be a spot where they had a bit of overspill on whatever chemical they were using for masking.

Keep in mind, this is the best guess from a Blacksmith, not an engineer or plating professional.
Marc Banks
Blacksmith - Boone, North Carolina, USA
---
April 18, 2013
A. What you see is tarnished nickel where the chromium did not cover due to its outgassing through the hole. The chrome can be stripped, the nickel re-polished, metal tape or a metal plug to cover the hole, then re-chrome plate right over the nickel. Meanwhile, change plating shops.
The un-aided eye cannot separate freshly plated nickel from chromium, but after it sits around a few days it turns yellow, then brown, then black - and by then you can really see it. Your eye can tell the difference day one if you hold a piece of tissue paper over the part to filter the light, the chrome will have bluish cast, the nickel white the first day then fades into brown and black.

Robert H Probert
Robert H Probert Technical Services

Garner, North Carolina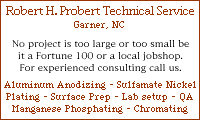 ---
April 23, 2013
Hi. I'll accept all of Robert's good advice, except for one line that can be misinterpreted: "The un-aided eye . . ."; I'd change it to "The untrained eye . . ."
With proper lighting most qualified platers will know where to look for missing chrome and be able to see it, whether or not their individual style includes filtering the light with tissue.
Regards,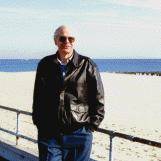 Ted Mooney, P.E.
Striving to live Aloha
finishing.com - Pine Beach, New Jersey
---
April 24, 2013

Very much appreciate the comments and observations - good
to know what the problem actually is!
David Nyne
- St. Louis, Missouri, USA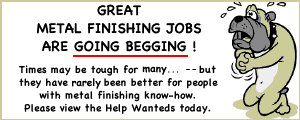 Junior Quality Engineer [Santa Clara, CA]
Plating Process Engineer [Wenatchee, WA]
Plating Supervisor [Chicago]
Plating Quality Inspector [Chicago]