World's #1 finishing resource since 1989
No login needed: Chime right in
topic 59242
What process to use to color a small spring?
April 9, 2013
Q. I have a small part that pretty much looks exactly like a hairpin/bobby pin.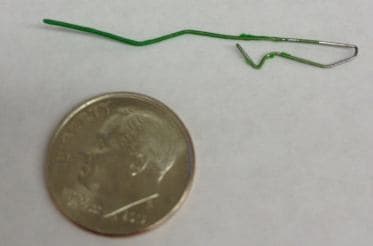 The material is a slim .015" diameter steel. I need it to be colored brightly (i.e. neon green or orange or yellow, etc.) The material can be made out of stainless so corrosion is not a problem...THIS IS SIMPLY FOR VISIBILITY, but the coating must be as thin, uniform and low friction as possible. I might be doing 10,000 at a time so I am looking for something that can do a batch like that for cheap. I don't think powder coating is thin enough, plus I imagine they would have to be individually racked and that seems expensive. I could almost make the parts out of aluminum and have them anodized but none of the anodizing I have seen is bright enough. The samples I made that look good had neon nail polish brushed on but that is obviously not uniform or economical. Any ideas would be very much appreciated! Thank you!
Matt Larson
- Des Plaines, Illinois, USA
---
May 16, 2013
A. I suggest investigating several coating types. The first is called AQUA-TRC, which is a quick drying coating that has been developed specifically for small springs and other formed parts. I believe it is acrylic, similar to nail polish. The other coatings are organic (epoxy) with PTFE. These can be pigmented. Look for suppliers that do dip-spin and spray coating with DuPont, Acheson, and other coatings.
Toby Padfield
- Northville, Michigan, USA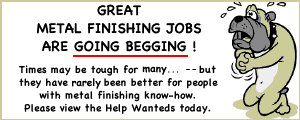 Plating Process Engineer [Wenatchee, WA]
Plating Supervisor [Chicago]
Plating Quality Inspector [Chicago]