World's #1 finishing resource since 1989
No login needed: Chime right in
topic 59225
Zinc Plate with Trivalent Chromate - Red Rust Corrosion
April 1, 2013
Q. We recently received a field complaint regarding rust. The product we produce uses zinc plated brackets with Trivalent Chromate finish. The brackets are housed in a weather resistant cabinet with electronic components. The bracket prints call out "CRS 14 GA and FINISH TO BE CLEAR ZINC PLATE PER ASTM-B 633, SERVICE CLASS 2, TYPE V". The vendor informed me that, in this case, TYPE V, is actually 96 hour salt spray not 72 hour as stated in the salt spray standard.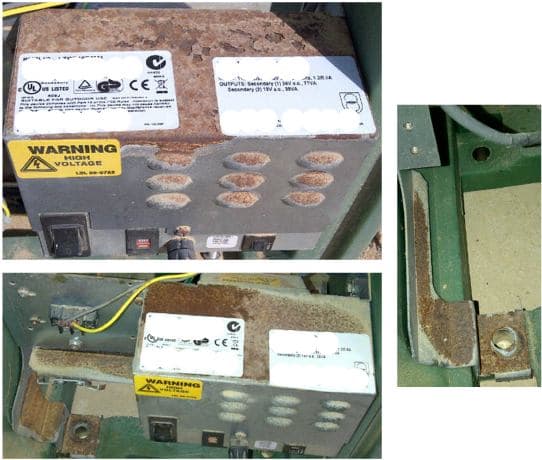 The red rust is primarily on horizontal surfaces which would point to accumulation of liquid on the plates. Unfortunately, I do not know how long these units have been in the field or what environmental factor may have accelerated the corrosion.

Assuming the brackets were properly produced, why is no white rust visible from the corrosion of the zinc after the break-down of the Trivalent Chromate? Only, base material, red rust corrosion can be found on the brackets.

I have been asked to investigate a low cost solution to this problem. Given the limited information from the field, should I be looking at upgrading the zinc Service Class, the Finish Type, currently V, or the addition of a post plate sealer? My thought is that I should investigate upgrading Finish Type and/or a post plate sealer; I would prefer to extend the life prior to break-down of the zinc not the time from bare zinc to base metal red rust corrosion. Solution must be RoHS compliant.
Travis Onofrio
Engineer - Riverside, California USA
---
April 5, 2013
A. Travis,

You can certainly call out a thicker zinc plate, and add a RoHS compliant topcoat. These will both help to some degree. I would also look at the possibility of stray current somewhere in the assembly - that is what probably accelerated the corrosion to the point of failure.

Regards,
Kris DeBisschop, CEF
- Stratford, Connecticut, USA
---
April 9, 2013
A. Red rust failure is a result of too low zinc thickness.

White rust, which withstands 72/96 hours in NSST, is a failure of the passivation. In this case, a top coat is beneficial.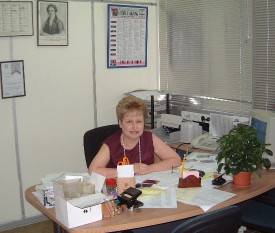 Sara Michaeli

chemical process supplier
Tel-Aviv, Israel
---
April 24, 2013
Q. Thank you for your comments. I just received the corroded assemblies to analyze. What would you recommend that I do with the assemblies? Perhaps a salt spray test to uncorroded areas? I assume there is no way to determine what attacked the plates.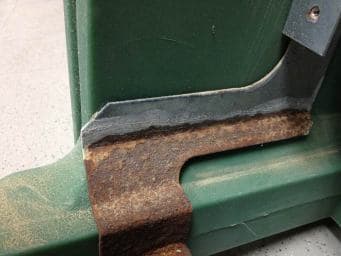 On another note, there is a push to make the brackets out of passivated 300 series stainless.
Travis Onofrio
- Riverside, California, USA
---
April 30, 2013
A. Travis,

The first thing I would do is check the plating thickness on an unaffected area to see if you are getting the plating thickness you specify. I doubt that a salt spray test will tell you anything after the part has been out in the field.

Regards,
Kris DeBisschop, CEF
- Stratford, Connecticut, USA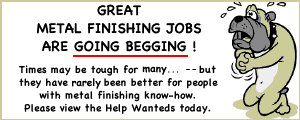 Junior Quality Engineer [Santa Clara, CA]
Plating Process Engineer [Wenatchee, WA]
Plating Supervisor [Chicago]
Plating Quality Inspector [Chicago]