World's #1 finishing resource since 1989
No login needed: Chime right in
topic 59219
Is nanofiltration a viable option for phosphoric acid recovery
March 26, 2013
Q. We are currently using phosphoric acid to electropolish stainless steel. Increased production and rising costs of phosphate warrant looking at nanofiltration. The Koch MP-34 membrane seems to be a possibility.

We would like to find out if nanofiltration is a cost effective alternative to decanting.
Willie Alexander
Metal Finishing Manager - Colorado Springs, Colorado, USA
---
April 1, 2013
A. The answer to your question depends partly on the acid concentration. At concentrations above 25%, none of the acid purification technologies work very well. Below this concentration, both nanofiltration and acid retardation may work. That being said, the operating pressure needed to overcome the osmotic pressure may be much higher than you expect.
Lyle Kirman
consultant - Cleveland Heights, Ohio
---
April 3, 2013

Thanks for the input Lyle. The concentration is above 25%, and we are aware the pressure needed is 600 psi +. We'll keep plugging away at it.
Willie Alexander
- Colorado Springs, Colorado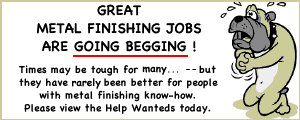 Junior Quality Engineer [Santa Clara, CA]
Plating Process Engineer [Wenatchee, WA]
Plating Supervisor [Chicago]
Plating Quality Inspector [Chicago]