World's #1 finishing resource since 1989
No login needed: Chime right in
topic 59215
Sputter etching of stainless steel
March 19, 2013
Q. Can I etch stainless steel samples using sputtering method, to thickness of 1micrometer? How?
Jyothi Jambu
- Bangalore, Karnataka, India
---
First of two simultaneous responses -- March 26, 2013

A. Yes, you can. Put the parts in a vacuum chamber, backfill with argon to ~10 mTorr, and apply a negative bias to the parts until you see a glow around the parts. How long it takes depends on a number of factors, including part geometry and surface condition.




Jim Treglio

- scwineryreview.com


PVD Consultant & Wine Lover - San Diego, California





---

Second of two simultaneous responses -- sMarch 26, 2013

A. In principal it is possible. In practice it depends on what exactly you want and why.

H.R. Prabhakara

- Consultant


bangaloreplasmatek.com - Bangalore Karnataka India


---
March 29, 2013
Q. I have to do texture on SS-304; it has to be 1 micron and I am interested to use DC magnetron unbalanced sputtering system. Just with Ar etching or any reactive gas I have to use for creating texture? How much time I have do?
Shall I know detail how I have to do?
Jyothi Jambu
- Bangalore, Karnataka, India
---
April 2, 2013
A. Magnetron sputtering is used to deposit, say SS, onto some other material. Here SS acts as cathode or target and is eroded in the process. The erosion would not not be uniform in general. Strong magnets are used close to the (SS) target which is water cooled. Generally cathodes are not the end products in magnetron sputtering. But your primary interest is in the sputtering target. It important to know the geometry and other properties of the target as well as the erosion pattern you want to generate. This is an unusual application and needs to be looked into in detail.
H.R. Prabhakara
- Consultant
bangaloreplasmatek.com - Bangalore Karnataka India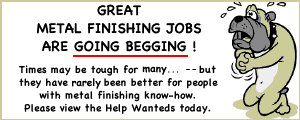 Junior Quality Engineer [Santa Clara, CA]
Plating Process Engineer [Wenatchee, WA]
Plating Supervisor [Chicago]
Plating Quality Inspector [Chicago]