World's #1 finishing resource since 1989
No login needed: Chime right in
topic 59208
Etching or blasting benday dot pattern onto mirror polished stainless steel
March 19, 2013
Q. I'm trying to find a suitable method of etching or blasting a mirror polished stainless steel table base. The base is 6'0" L x 2'0" W x 2'3"H, made from 1/2" stainless plate. The base is made of two verticals and one long center piece.

I would like to etch/blast most of the table base leaving only about the bottom 1/3" of the legs mirror polished, either in a masked off benday dot pattern or gradient from mirror to matte.

I've spoken to a metal fabricator and they can etch it but the downside of etched SS is that fingerprints are nearly impossible to remove.

I thought maybe someone may have a novel solution that I haven't thought of.

Thank you,

Brant
Brant Ritter
designer - Los Angeles, California, USA
---
April 1, 2013
A. Brant,
It sounds like you've got an interesting project there, however I'm unsure where your problem is. What problems are you having with the sandblasting vs. acid etching?
Marc Banks
Blacksmith - Boone, North Carolina, USA
---
April 3, 2013
Q. I'm concerned mostly with the etched or sandblasted stainless steel being susceptible to finger prints and staining. I wondering if there may be another method of 'etching' the SS, or a way to protect both the etched as well as mirror polished surfaces.
Brant Ritter
- Los Angeles
---
April 5, 2013
A. Good day Brant.
Have you thought about a passivation process?
Regards,
Eric Bogner
- Toronto, Ontario, Canada
---
April 8, 2013
A. Ah, now I see your problem.

I would think that sand blasted areas are going to hide fingerprints better than etched due to the greater variation in highs and lows (this may be untrue if ultra fine media is used). Mirror finishes are always going to have problems with fingerprints, if you have any spare material I'd suggest doing some test pieces to see what works best.
Considering your level of concern I'd suggest checking with a couple of autobody shops and check to see what they could do for clear-coat for you, a lot of those guys are pretty sharp and will have some good suggestions.
Marc Banks
Blacksmith - Boone, North Carolina, USA
---
June 13, 2013
A. I would actually take a different approach. Wax and polish the whole table. The fingerprints won't be an issue on the etched or sand blasted areas (though they will look a bit different filled with wax) and the polished areas can easily be buffed if they get prints. You might even try a common stainless cleaner or even pledge.

Try it on a test piece, I think you'll be pleasantly surprised.
Justin Kumpf
- Philadelphia, Pennsylvania, USA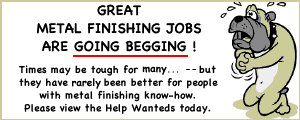 Junior Quality Engineer [Santa Clara, CA]
Plating Process Engineer [Wenatchee, WA]
Plating Supervisor [Chicago]
Plating Quality Inspector [Chicago]