World's #1 finishing resource since 1989
No login needed: Chime right in
topic 59206
Anodizing Aluminum Using Sodium Bisulfate
A discussion started in 2013 but continuing through 2017
March 16, 2013
Q. I am using sodium bisulfate in anodizing tank. Pros - cons?
Also I seal parts by just boiling. Pros - cons?
I am making parts of aluminum 6061. They are not being exposed to harsh environment.
Any input would be appreciated.
Have a great day!
Ed
Edward Crouse
hobbyist - Spring Grove, Pennsylvania, USA
---
March 19, 2013
A. Hi Ed. Personally, I've never heard of using sodium bisulphate for industrial aluminum anodizing, but I do hear about it in the hobby world. It's an intriguing idea, and I'd love to hear of some comparative tests for salt spray resistance, dielectric resistance, color retention, wear resistance, etc. (none of which may be especially important to you though).
There is nothing wrong with boiling water sealing. It's used industrially for clear anodizing, but it's best if it is de-ionized water. Good luck.
Regards,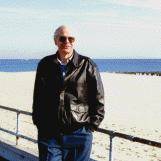 Ted Mooney, P.E.
Striving to live Aloha
finishing.com - Pine Beach, New Jersey
---
---
August 29, 2016
Q. I am attempting to duplicate the look of an automotive product we make which is a 6061 aluminum part which is bead blasted and then clear coated with "Nyalic" as an optional finish. This process produces a uniform grey cosmetic finish that we call "high tech, titanium finish". I am trying to use anodizing (with sodium bisulfate NaHSO40 diluted to a pH of 12.25-12.50 as the electrolyte) as a better way to protect the finish than a clear coat. My problem is the clear anodizing results in a non uniform mottled gray. I have been trying cleaning/etching with sodium hydroxide, but this seems to help some, but not completely. I have also tried scrubbing with just soap and water before anodizing, but I just can't get the parts to look uniform like they do before the anodize. Any ideas?
Ted Mitchell
very small production shop - Jay, Oklahoma
---
August 30, 2016
A. Most likely you are embedding silicone into the surface of the part, it will not be noticeable before anodizing, there can be signs of it if you etch the part for a short time, you will start to see some non-uniformity, longer etching (excessively long) may remove enough material to get rid of the silicone contaminated layer, but, as a side effect, you may start to see grain of the aluminum itself.

What worked for me, when I had to deal with such parts once, I did 30 sec caustic etch (40 gr/l @ 60 &C), deox (nitric/sulfuric) them as usual, anodized (type II) them for short time ~15 min, then caustic etch to strip them, just enough to remove the fresh anodizing layer, same deox, and normal anodizing (same sulfuric type II, to around 10-12 micron thickness), and the parts came out clean, uniform matte looking - just as requested.

Soaking those parts in hydrofluoric could probably eliminate that first short anodizing/strip process, but it is quite nasty stuff to deal with!
Janis Z.
- Riga, Latvia
---
Want lustre finish on aluminum clear anodized in bisulfate
December 17, 2017
Q. Hi,

I have started experimenting in my shop with anodization lately so to replicate the MIL-A-8625F Type II Class 1 process previously done by professionals on my product.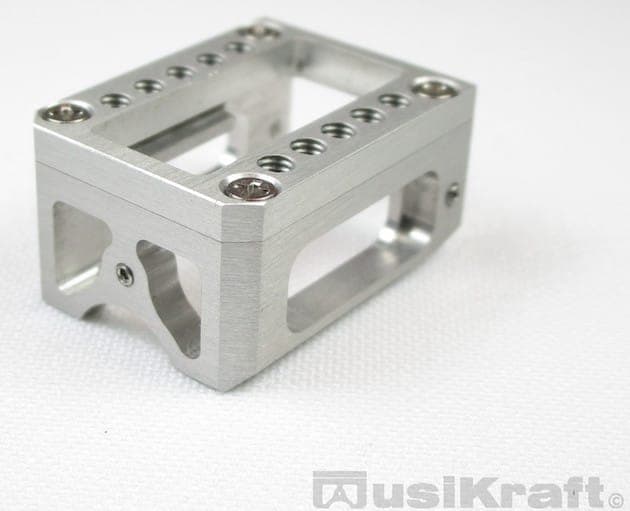 I use regular 6061-T6 aluminum. My parts are finished with 600 grit sandpaper. Cleaning is done with Dawn detergent. Etching in a Sodium hydroxide solution. My coating is achieved with a Sodium Bisulfate bath rather than using the common sulfuric acid. Sealing is done in deionized boiling water.

I would like to replicate their results, except I am getting a matte finish once I seal the parts compared to theirs which shines way more. I noticed that etching these worsens the lustre so I stopped doing that process on my present samples ... but still my anodisation takes all the lustre out of my parts seen before anodizing them.

I can't find information on the internet. I would like to know how to preserve the small lustre finish on my parts or if it can simply brought back after the anodization?

Thanks in advance for your help,
Guy
Guy P.
product designer - Quebec, Canada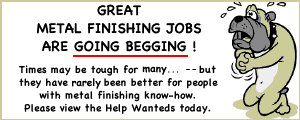 Plating Process Engineer [Wenatchee, WA]
Plating Supervisor [Chicago]
Plating Quality Inspector [Chicago]