World's #1 finishing resource since 1989
No login needed: Chime right in
topic 59205
Best Wastewater Treatment for Alkaline Zinc Nickel Plating
March 18, 2013
Q. We will run an alkaline zinc nickel alloy plating installation in a few months. We have limit of 1 ppm for Zn and Ni in the wastewater dumped at the sewer. What is your opinion on the treatment of the waste water from the lines to achieve 1 ppm for both metals. I am interested if I can do this using chemical precipitation or do I need special installations like ion exchange resigns, electrocoagulation, UV-oxidation, etc.
Thanks
Ionut Andrei
Electroplating - Sebes, Romania
---
March 18, 2013
A. Hi. Maybe another reader will disabuse me of my error, but I wouldn't trust my future to getting 1 ppm from a simple hydroxide precipitation system, even with additions of Calcium, Aluminum, or Iron co-precipitants. I just don't think you will consistently achieve it.

I think you'll need to plan for secondary treatment with sulfide or DTC. This means you first treat with hydroxide precipitation and a co-precipitant, settle out the precipitants in a clarifier, and then treat just the clarified effluent with sulfide or DTC and filter or clarify it again. Be very careful to not overdose these. In the USA, the worst pollution incident from a plating shop wasn't a discharge of inadequately treated or even untreated waste, but a gross overdose of a treatment chemical (DTC) which killed 4-1/2 million fish over a stretch of 50 miles (google "Guide fish kill White River Indiana"). Sometimes the cure really is worse than the disease :-)

Regards,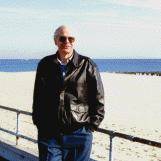 Ted Mooney, P.E.
Striving to live Aloha
finishing.com - Pine Beach, New Jersey
---
March 21, 2013
A. Hello Ionut,

You can achieve, as Ted mentioned, lower than 1 ppm by a chemical treatment with DTC, sulfide or other chemical precipitant. We, at the moment, are using tertiary polyamines (cationic coagulant) and polyacrylamides (anionic flocculant), sodium sulfide and sodium hydroxide. We get zinc values of 0,1-0,7 ppm and nickel 0,1-0,2 ppm with this system.

I would ask for some assistance to make an installation for this wastewater treatment, and be very meticulous in the mixing systems: Low mixing and you will not be able to control your process (dosing, precipitation and pH adjustment), high mixing and you will have very small floccules and the precipitation will take some time (in a continuous plant you may have some problems with the size of the sedimentator).

Hope you can achieve your goal! Regards and good luck!
Daniel Montanes
- Canuelas, Buenos Aires, Argentina
---
August 22, 2013
Q. Dear Sir
Being a mechanical engineer I want to know from you how to treat the wastewater coming out from zinc electroplating. What are the chemicals used in the process
Shree Ram Sharma
engineers - Delhi, India
---
August 25, 2013
A. Hi Shree. First, are you sure that this is alkaline non-cyanide zinc electroplating? Acid zinc and cyanide zinc are quite different. Are you using trivalent chromating? Is the pretreatment limited to alkaline soak cleaning, electrocleaning, and muriatic acid activation, or are there other steps? There are no other wastes mixed in, and there is currently no wastewater treatment?
Regards,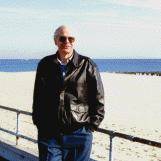 Ted Mooney, P.E.
Striving to live Aloha
finishing.com - Pine Beach, New Jersey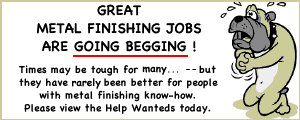 Plating Process Engineer [Wenatchee, WA]
Plating Supervisor [Chicago]
Plating Quality Inspector [Chicago]