World's #1 finishing resource since 1989
No login needed: Chime right in
topic 59166
Huge shoulders/thickening after hot dip galvanizing
February 20, 2013
Q. Dear All!
We galvanize (HDG) frames for trucks, the results you can see on attached photos.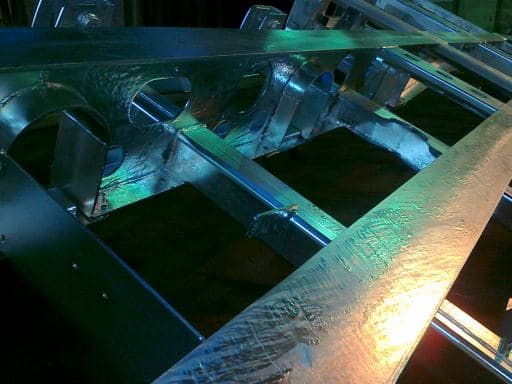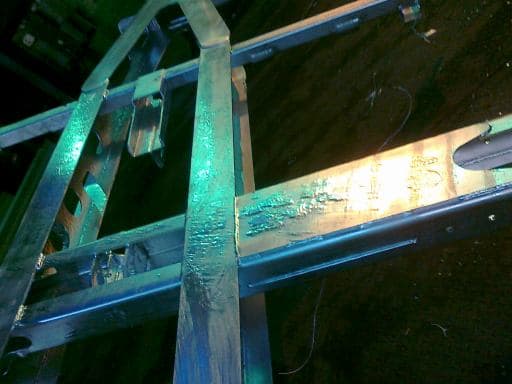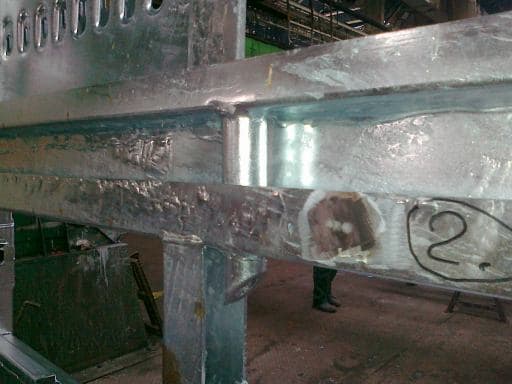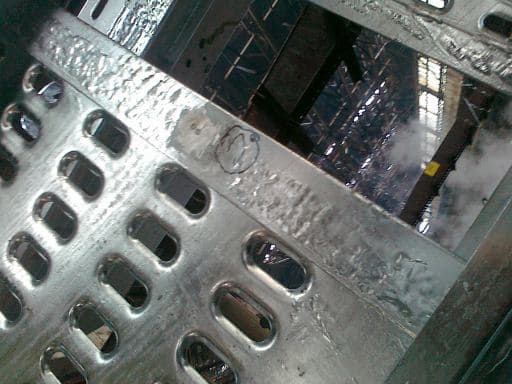 We often have problem to obtain correct zinc coating on that frames, there are irregular shoulders which get 5 millimeters thick. In the frame there are elements made of special steel, REH 700N/mm2, fine grain, annealed and skinpassed, chemical composition: C-0,08; Si-0,2; Mn-1,3; P-0,01. When we strip it and galvanize again, the effect is almost the same, even shot blasting doesn't help.
Where is the problem - in the steel, in the pretreatment or in the zinc bath?
How to solve it?
Thanks in advance!
Tomasz Wereda
process engineer - Siedlce, Poland
---

February 23, 2013

A. See have you checked the steel for any oil or varnish on it even after pickling??.If we take it as perfect it is your flux.Zinc bath is only related with the withdrawal rate which I don't think is the case.Please get your flux checked.

nitesh agarwal




- mumbai, India





---

February 23, 2013

A. Thomasz,

In order to find solutions, please answer the following:

1)How do you dross? (clam, grab, scoop, other)
2)What is your withdrawal speed of the crane at the kettle (in meters/minute).
3)What is the chemistry of your zinc (Al, Ni, Bi, Sn, Pb, etc.)?
4)What is the composition of your flux? (ACN, or double or triple salt, density in Be' or g/ml, iron, sulfate if any, temperature)
5)How do you add aluminum to the zinc? (pure Al or a Zn/Al alloy).
5)From what country did the people come from who put in your kettle furnace?

On a scale of 1 (bad) to 10 (excellent) some parts of your product are "1" and other parts are "10."

Regards,

Dr. Thomas H. Cook




Galvanizing Consultant - Hot Springs, South Dakota, USA





---

February 21, 2013

A. Not easy to tell from the pix, but this could be a case of insufficient immersion time.

Geoff Crowley




Crithwood Ltd.





Westfield, Scotland, UK





---
February 25, 2013
A. Dear Dr. Thomas, here are answers to your points:

1. scoop
2. from 0,2 to 1.6 m/min
3. Al – 0,003, Ni – 0,05%
4. ZnCl2 and NH4Cl, total 400g/l, relation 3:2, Fe max 1g/l, 55˚C, continuously regenerated
5. alloy ZnAl
6. we've got 5 galvanizing lines ( 2x13, 2x7 and 9 m long bath), all of them were put in by Polish companies, first in 1975, last 2010.
7. estimation - 8
Tomasz Wereda
- Siedlce, Poland
---
February 28, 2013
A. When an item is galvanized a second time, after not being fully stripped of the old zinc, it can look like this.
I once had a case where only one person in the crew knew that the item had been stripped of old galv (but not fully), and re-galvanized.

What thickness is the thickest parts of zinc in your pictures?

Geoff Crowley
Crithwood Ltd.

Westfield, Scotland, UK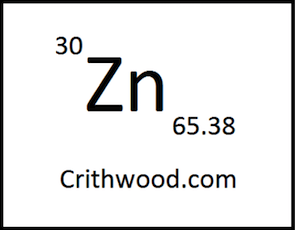 ---
February 28, 2013
A. Thomaz,

On your kettle sizes are they 2 meters wide by 13 meters deep or 13 meters wide by 2 meters deep? You say 9 meters long? I do not understand?

You are using Ni at 0.05%. Does this help? If your steel is fully killed (above 0.15% silicon) the nickel would be of little or no value.

A relation of 3:2 zinc chloride to ammonium chloride would give you an ACN of 0.67. This is between monosalt at 0.4 and double salt at 0.8. Also your temperature of flux at 55 °C tells me that the flux is quite concentrated, perhaps 25 degrees baumé or greater. I now see 400 grams/liter flux so this is very concentrated solution. I expect it spatters badly on entry into the zinc? This flux make-up is not like any North American flux.

Your withdrawal rate (slow) from the zinc is quite okay.

I printed your photos on PAPER and I now can more clearly see your galvanizing results. I will look at them more when I go to bed tonight and try to figure this out.

I presume you have a drying oven to try to dry the flux before entry into the zinc? I wonder if the zinc spatter is very bad on entry into the zinc and this splashed up zinc falls back onto the product before it is submerged in the zinc?

Regards,
Dr. Thomas H. Cook
Galvanizing Consultant - Hot Springs, South Dakota, USA
---
March 1, 2013
Thomasz,

How deep are your kettles in meters?

Are these "blobs" of zinc coming from all of your five kettles? Are these "blobs" on the top or the bottom of the product?

How do you add nickel to your zinc? Powder? Powder/Wax bricks? Spin machine? Nitrogen machine? Etc.?

How deep is the dross in the kettles?

I now have a better look at you product from pictures printed on paper-- I estimate your total product as a quality of "1."

Are you using primary SHG zinc? or are you using secondary zinc? What is lead in zinc. What is bismuth in zinc? What is usual lifetime of kettles?

In regenerating flux are you using H2O2 and NH4OH?

Are your kettle walls clean? Send photo.
Dr. Thomas H. Cook
Galvanizing Consultant - Hot Springs, South Dakota, USA
---
March 4, 2013
A. It's 50-70µm on perforated sheet (3mm thick)
Tomasz Wereda
- Siedlce, Poland
---
March 7, 2013
Q. - Size of kettles (length, width, depth [m]): 13x1, 5x3, 3; 13x1, 6x3, 3; 7x1, 5x3; 7x1, 8x3, 3; 9x1,6x3,3
- I am talking about 13x1, 5x3, 3 kettles where nickel is added as a powder, by spinning. I can't galvanize those frames in second 13 m line because it's in another city and alloy zinc we use there is different.
- I am writing about that frames because I have a problem only with them but it doesn't mean we galvanize only fully killed steel. Clients deliver products made of steel where Si content is 0,001-0,6% so the alloy zinc should be universal that is why we have 0,05 Ni in it.
- Of course we got dryer and splashes but they were never a problem.
- "blobs" occur on vertical surfaces and horizontal at the bottom (I am sure it's not bottom or floating dross)
- dross is taking out when 25-30 cm
- only primary zinc 99,99; Pb 0,005%
- kettle walls -- see photo.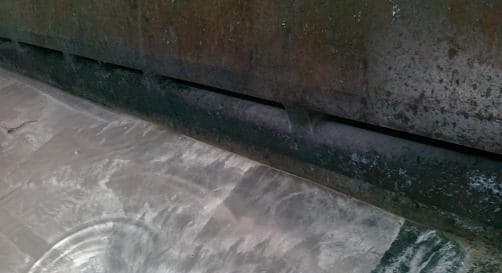 Tomasz Wereda
- Siedlce, Poland
---
March 8, 2013
A. Thomasz,

I have trouble understanding dimensions of your kettles! Perhaps you could give a table such as:


| | | | |
| --- | --- | --- | --- |
| Length in Meters | Width in Meters | Depth in Meters | |
| 12 M | 1 M | ____________ | |
Thank You.

In North America there is a zinc company that studied the use of nickel in zinc: In one of their articles they state that above 0.15% Si, the nickel is of little or no value. In the other two of their articles they give 0.20% an 0.25% silicon or above, nickel is of no or little value. They are all fully killed steels. This zinc company did not study substantially the effects of phosphorus, copper, or aluminum in the steels. I am not a nickel advocate for a number of reasons. Above 0.05% nickel, the dross increases substantially.

I think it likely that the blobs of zinc are intermetallic compounds of zinc and nickel. This is the creamy surface material that is on the zinc surface after spin alloying the nickel powder into the zinc.

A three meter wide kettle would have some problems indeed. How would such a wide kettle be heated?

Regards,
Dr. Thomas H. Cook
Galvanizing Consultant - Hot Springs, South Dakota, USA
---
March 13, 2013

Dear Thomas, here's the table: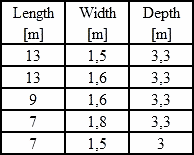 In Poland there is German Galvanizing with three meter wide kettle; it works quite good but I don't know the details.

I had a meeting with people from Swedish steel mill which produces thesteel I am talking about, they will send me samples; if the problem appears again they will check it in their laboratory.
Thanks to all of you for your advice, I will write results in a month or two.
Tomasz Wereda
- Siedlce, Poland
---
March 16, 2013
A. Thomasz,

Your kettle depths are excellent. I very much recommend a depth to width ratio (depth/width) of 1.5 to 2.0. By this ratio floating dross is unlikely.

It now seems you think the type of steel is at fault. Recently within the last month there have been three cases of very thick zinc coatings, all due to excessive phosphorus in the steel. Normal phosphorus is 0.01% or lower. The three cases all had around 0.05% phosphorus.

Regards,
Dr. Thomas H. Cook
Galvanizing Consultant - Hot Springs, South Dakota, USA
---
March 13, 2014

Hi again,

It seems that the reason for bad coating appearance was not enough pickle time.
Tomasz Wereda
- Siedlce, Poland