World's #1 finishing resource since 1989
No login needed: Chime right in
topic 59163
Marble effect on anodised coating
February 18, 2013
Q. Please see email image of problem.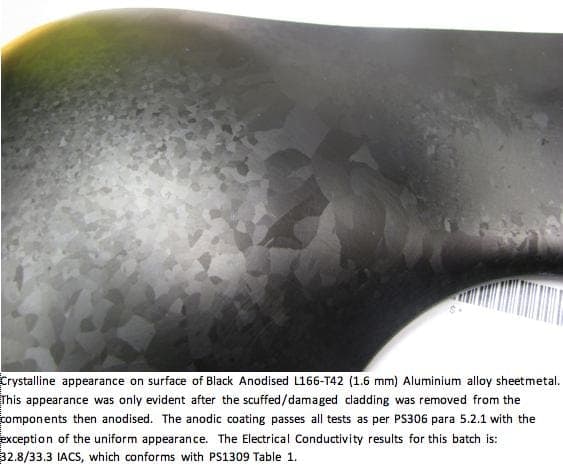 The cladding on the parts had been locally dressed to remove forming/tooling marks, this causes us problems at the anodising process where it leaves a distinctive 2 tone appearance which is not acceptable to our customer. As a result of this we chemically removed the cladding from several of the components under controlled conditions in line with our customers requirements and re-anodised the parts leaving the finish you see.
Nigel Bell
Process Engineer - Northern Ireland
---
February 19, 2013

A. I refer to this as mottling. Very common on stripped parts. This alloy does not appear to be very homogenous. Did you refinish them (buff/sand/tumble) prior to re-anodizing? That should solve this issue, as long as you don't over etch during the 2nd pretreatment.




Marc Green




anodizer - Boise, Idaho





---

February 20, 2013

A. Hi Nigel,

What you are seeing is the individual grains anodised. It's nothing to worry about and will not affect fit, form, function of the part. What it does illustrate is that you have some pretty large grains there.

Brian Terry




Aerospace - Yeovil, Somerset, UK




---
February 21, 2013
Q. Marc/Brian,
Thanks for your feed back on my question. Unable to buff/sand due to specification requirements. Unfortunately we do not have a tumbler big enough.We did in fact believe it could have been grain shortening as the surface work hardened during the forming process. The material had been annealed directly before the forming process.Just a point that the marble effect was noticeable but not as much prior to removal of the cladding by etching.
Nigel Bell
- Northern Ireland
---
March 6, 2013
A. This effect could also be caused by zinc contamination in your etch tank. I have experienced this first hand when I started a new job and the first thing that was done was to put a air sparge in the etch tank for temperature control. Steel pipe was specified and the maintenance department decided that galvanized steel pipe was ok to use. The zinc was immediately stripped off the pipe and contaminated the bath, which by the way was 11,000 gals. Production was shut down until the bath could be treated to remove the zinc.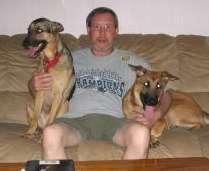 Tim Hamlett
Anodizing - Pompano Beach, Florida, USA