World's #1 finishing resource since 1989
No login needed: Chime right in
topic 59154
Is this 304SS over polished?
February 12, 2013
Q. Hi! I'm working with a company and noticed the following finish while I was checking the part for something else.

My gut is telling me this is over polished, or too much acid in the bath. There is supposed to be a slight edge at another location and it looks rounded. The distance across the thinnest dims here is .070" roughly.





Thoughts?

Thanks!
Mike Plishka
- Lake Villa, Illinois
---
February 21, 2013
A. Mike,
Random pock marks in an otherwise uniformly smooth or uniformly lined surface says "chemical etching" to me. Was this part perhaps left too long in a nitric acid passivation bath?

Ray Kremer
Stellar Solutions, Inc.

McHenry, Illinois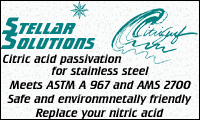 ---
First of two simultaneous responses -- February 26, 2013
Q. Ray,
I'm trying to find out what exactly they are doing in the process. (The plant is in the Dominican Republic.) I know for a fact that one of the criteria they are using for determining if something is polished is "shininess". As a result it ends up cooking for at least 4 minutes and usually upwards of 6. I am obtaining a list of what chemicals are used in the process. Will post once I get it.
Thanks for getting back and let's keep in touch!

Mike
Mike Plishka
- Lake Villa, Illinois, USA
---
Second of two simultaneous responses -- February 27, 2013
A. You really never said what the problem is. I assume if you are polishing the surface profile is of a concern to you. There is not enough info to give you a recommended fix.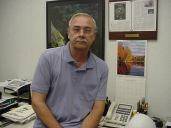 AF Kenton
Hatboro, Pennsylvania
---
March 1, 2013
Q. The main problem is that this surface, while the grinding marks are acceptable, is pitted terribly. In addition, edges that should be relatively sharp edged are rounded. There's no reason for 304SS to be this pitted.

Thanks!
Michael Plishka
- Lake Villa, Illinois, USA
---
March 6, 2013
A. Again I assume you want to stay with the chemical polishing process and it does seem to be a matter of time or concentration. However, if you want to correct the existing parts you have to do a mechanical process. If the parts are small than 12-18 inches you might want to consider a mass finishing system otherwise a non-woven wheel should work to correct problem.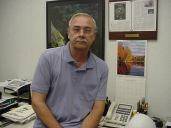 AF Kenton
Hatboro, Pennsylvania
---
April 17, 2013
A. The photographs certainly suggest that the stainless steel is etched, but 304 SS is a workhorse steel that should be easy to electropolish. There are numerous things that can go wrong - too low voltage/ current density or too high voltage and current density. However, if it is being done by a commercial electropolishing firm, irrespective of where it is, they should have an understanding of what they are doing. I would therefore think they would know the correct voltages to apply, so I suspect the electropolishing solution is worked out and has too high metal content in it or perhaps has been diluted with water (possibly from the atmosphere).

Trevor Crichton
R&D practical scientist
Chesham, Bucks, UK