World's #1 finishing resource since 1989
No login needed: Chime right in
topic 59144
Can't Get Rust To Form On Forging
January 31, 2013
Q. I attempting to grow cosmetic rust on a steel forging without success. The part is a 8" galvanized turnbuckle McCarr PN 30045T47. The steel is described as "high strength". I have removed the galvanizing by sandblasting.

The patina chemical I use is "Easy Plate" from Metal Finish Supply.com. I have used this for years on steel sheet of all types with good results. The part is sprayed with EZ plate then exposed to moisture to form the rust. A good rust finished can usually be created in just 12 hrs or so.

When the chemical is applied to the turnbuckle it immediately turns gray and stays that way even after it is exposed to moisture (no rust). So my question is... how can I get get a good rust finish on this forging in a couple days?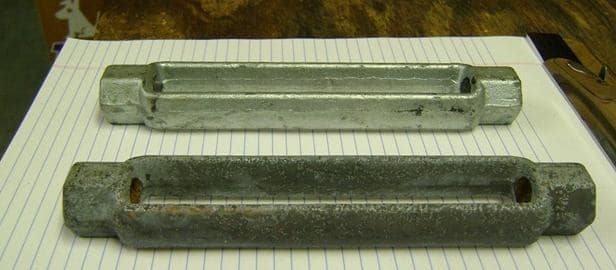 Any ideas are appreciated.
Ted Dake
- Waynesville, North Carolina, USA
---
First of two simultaneous responses -- February 6, 2013
A. Try 20 grams iron (III) chloride / 1 lit water solution. Instead of water you can use water alcohol mixture (1/1) or even pure alcohol. Hope it helps and good luck!
Goran Budija
- Zagreb, Croatia
---
Second of two simultaneous responses -- February 8, 2013
A. If you are certain you have removed all the zinc, dip them in weak (1-2%) muriatic acid, don't rinse, and place in a humid environment.

Or, you could strip the galvanizing in 10-15% muriatic, do a quickie rinse, then humid environment.

Either way, they'll be well rusted in 24 hours.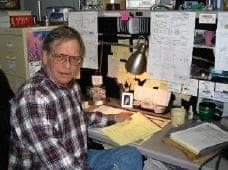 Jeffrey Holmes, CEF
Spartanburg, South Carolina
---
February 14, 2013

Turns out I had not removed all the galvanizing. I mainly work with sheet where the galv is removed with a couple passes w/ the grinder. The plating on the turnbuckle was much thicker/tougher.

I removed the galvanizing with a muriatic acid mixture and the parts rusted nicely. Thanks for the input.
Ted Dake
- Waynesville, North Carolina, USA