World's #1 finishing resource since 1989
No login needed: Chime right in
topic 59139
Stray current in Ni bath
January 27, 2013
Q. Hello,
Recently we have had problems with Ni peeling from Cu. We use a high throw Ni Sulfate plating solution, and plate over bright acid Cu. Our pre - clean line was all dumped and re - made. The peeling was sporadic. We ran many tests and found that when the heater controller was engaged (calling for heat) is when the adhesion failures surfaced. The low level sensor was found to have fractured, most likely emitting AC current through the solution. Could anyone explain what happens in the plating process when stray current is present? Is there anode passivation that occurs? Or does the stray current form an immersion deposit, which in electrolytic plating causes poor adhesion? Thank you in advance for your comments.
Mark Baker
Process Engineer - Mesa, Arizona, USA
---
March 28, 2013
A. Mark,

Stray currents can do many strange things. Most likely the anodic portion of the AC wave oxidized the copper and then the nickel did not stick to the copper oxide.

The AC current should not have any effect on the nickel anodes.

I have seen many problems when plating Ni onto parts that have both exposed copper and nickel. The most robust solution I have seen is to first use a woods nickel strike and then follow up with the nickel plate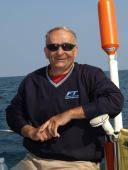 Pat Mentone
St Paul, Minnesota
---
April 5, 2013

Hello Pat,
Thank you for your answer. It makes sense that the Cu oxidized causing adhesion issues. We can't use a Ni strike because the low current efficiency factor of the solution would cause the photo resist to break down. We currently use an acid soak cleaner and a persulfate micro etch to give the Cu surface a "tooth" for good adhesion.
Mark Baker
Process Engineer - Mesa, Arizona, USA