World's #1 finishing resource since 1989
No login needed: Chime right in
topic 59123
17-4 Stainless fails copper sulfate test after laser mark and passivation
January 14, 2013
Q. We have an older lamp laser (CLC) that we still need for specific product lines. During recent validation tests of the laser mark, 17-4 seems to be the only material we can't get to pass a copper sulfate test. Our fiber laser will pass the test with ease, on all material types. What can be done about this? A range of laser settings seem to have no affect. A barely there mark, and a dark deep mark will almost instantly fail a copper sulfate test.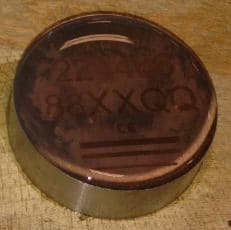 Is this to be expected? We are using Citrisurf 2210 for post laser passivation. The test coupons have been cleaned and passivated (citric) after being machined and polished.
Mike Sigwart
- Grafton, Wisconsin, USA
---
January 22, 2013
A. I don't normally see any laser marks that will pass a copper sulfate test, so it's good that you've got one laser that will get there. Laser marks are typically problematic to begin with, and the outcome seems to vary wildly depending on the grade of steel, the type of laser, and the settings on the laser.

If I had unlimited resources, I would run comparison tests across all variables and try to determine exactly what leads to better laser marks on stainless. It's a huge problem in the industry.

Ray Kremer
Stellar Solutions, Inc.

McHenry, Illinois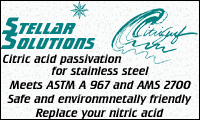 ---
January 24, 2013
adv.

Mike,

We suggest to do local electropolishing by universal electrolyte on the lasermark area. Contact us for more information.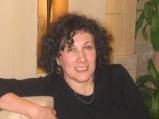 Anna Berkovich
Russamer Lab

Pittsburgh, Pennsylvania