World's #1 finishing resource since 1989
No login needed: Chime right in
topic 59113
Slippery Rubber-coated Rolls on our Electro-polishing bath
December 7, 2012
Q. Dear Experts,

We are a Continuous Coil coating company for Aluminium in India. We also have an Electro-polishing bath in our continuous coil coating line.

This bath has Rubber (Hypalon blend) coated rolls installed in them to enter & exit the aluminium coil from the bath. At the entrance of the tank, where the aluminium coil enters, it touches the rubber rolls when they are dry, and so the rolls are 'moving' in the velocity which is produced by the 'moving coil' (speed of the coil). However, when the coil exits the bath, the exit rubber rolls do not move, since the rolls are 'wet & slippery' by the electro-polishing electrolyte (Sulfuric and Phosphoric acid combination).

The problem because of non-movement of this roll causes 'hairline scratches' on our aluminium material, which causes problems to some of our customers who need a high surface quality.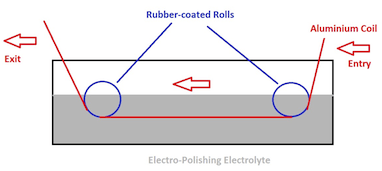 I seek guidance to understand how can we 'move' the exit rubber roll in our 'slippery' electrolyte bath?

Do we need to have a special rubber coated roll? Is there something we are missing?

Your responses will be appreciated.

Best Regards
Kunal
Kunal Makwana
- India