World's #1 finishing resource since 1989
No login needed: Chime right in
topic 59105
How to stop plumbers ink?
December 29, 2012
Q. I have plumbers ink (black ink) developing quickly on a water feature sculpture I just made for a client. It is made of copper pipe and copper metal pieces then plated with chrome. It sits in a shallow body of water that is pumped to a spout on top. How do I stop the black 'plumbers ink' that is developing very fast. What is the right pH level so the copper will not corrode?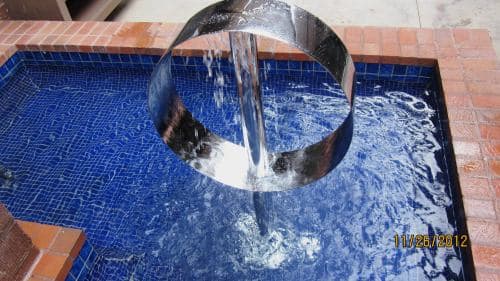 Is it possible the water pump that sits in the water is leaking enough electricity to cause this problem? Is it the copper and chrome in contact?
Thank you -
Reid Freeman
designer/builder - Woodland Hills, California, USA
---
December 31, 2012
A. pH would be anything close to 7 I will guess that 5 - 9 would work for quite a while.
I do not know what the black is but my first guess would be sulfur caused.
To get a copper statue to last for a long time you probably need to get rid of the tramp ions, both cations and anions. It takes better quality water than tap water in most areas. The cheapest way that I can think of is to start out with DI water. You can rent these cylinders and run tap water through it and return the cylinder. Then I would put a small reverse osmosis unit on it and run it continuously. These units will last a long time if properly taken care of. If not, they can foul the membrane in short order. Small units can be obtained at big box stores a lot cheaper than specialty stores.
James Watts
- Navarre, Florida