World's #1 finishing resource since 1989
No login needed: Chime right in
topic 59087
Aluminum finish is matte and unappealing? What went wrong?
December 13, 2012
Q. Hi, I am an industrial designer working for a supplier of commercial cooking products.

I am the quality assurance guy at my workplace, so I evaluate may different materials and finishes, mostly when they are defective and have been returned by our customers.

I am posting this, in the hopes of garnering some expert opinions on an aluminum finish I have been encountering.

Please review the attached photo. The item on top has a finish I would normally associate with formed aluminum sheet. Smooth, light grain, semi-gloss. The item below it has a matte, unappealing finish that I would like to avoid. It is less smooth, has nasty streaks, coarser grain, feels sort of dusty.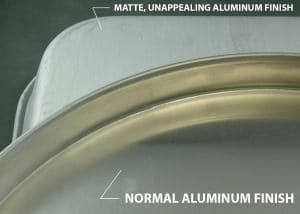 Can anyone speculate what processes have been done / not done on this part, that result in such a dull, unappealing finish? I will be taking this up with our supplier at some point, but it would be nice to gather some impartial expert opinions about what is going on here, beforehand.
I was told the finish is the result of the degreasing process used by this factory. There must be more to it than that, many formed aluminum parts have lubricants applied, and they don't come out looking like that after degreasing. Does it look caustic etched, then NOT anodized? Maybe the finish is indicative of some alloy, or very low purity aluminum?
Any input /opinions you guys can offer are most appreciated.
Andrew Smith
Quality assurance - Toronto, Ontario, Canada