World's #1 finishing resource since 1989
No login needed: Chime right in
topic 59062
Will heavy white rust on zinc ingots hurt their use in galvanizing?
November 16, 2012
Q. Dear Sirs,

Can anyone help me on this:
We are using SHG 99.995% min. Korea zinc.
We store all these zinc ingots in open area, and when it's raining, the surface of these ingots is coated with thick white powder.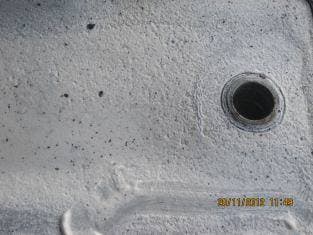 1) Can anyone tell me what is this powder?
2) Will it effect the quality of galvanizing coating?

Thanks/regards
Jeet
Param Jeet
Galvanizing - Klang, Selangor, Malaysia
---
November 23, 2012
We once used ingots that had been under the sea for over 30 years. A ship carrying Zn and Cu ingot sank off Spain. Over 30 years later the load was recovered.
We used some of the zinc for galvanizing. It was covered in white powdery oxides and carbonates of zinc. It was a little slower to melt (due insulating effect of the oxide), but produced fine galvanizing. It was a bit smelly when it has shellfish growing on the ingots.

Geoff Crowley
Crithwood Ltd.

Westfield, Scotland, UK