World's #1 finishing resource since 1989
No login needed: Chime right in
topic 59051
Anodizing Al precision miniature screws for electronic device
November 15, 2012
Q. Hi,

I am doing technology development job in company supplying precision fasteners/parts to electronic industry, e.g. cell phones and tablets.

There was inquiry from customer that they wanted some screws/inserts that are very light. We tried out both Al and Ti. Because Ti has much higher strength and hardness so customer finally opted for Ti.However, machining Ti has a very high cost.

I am thinking if the Al screws/inserts are subjected to anodizing followed by sealing, it might be able to replace Ti in such kind of application.

My question:
1. is it possible to do anodizing in batch process, without racking of the screws?
2. is the anodized layer very brittle? after assembly the screw, will the anodized layer remain intact?

I am very new in this area, please kindly give your comment. Thanks
Can Pi
fastening surface technology - Singapore
---
December 5, 2012
A. You might want to try 'basket' or 'barrel' anodizing. I assume that the part being mostly threaded, and with larger head than the stem, will result to minimum contact marks. There is no guarantee for 100% success. You will have to check each part using conductivity test. Why not use Al high strength alloy and temper, coated with Alodine or Iridite instead?
Dado Macapagal
- Ont., Canada
---
December 7, 2012
A. The anodic film formed on a sharp edge, like a thread, becomes 100% aluminum oxide, is very brittle, and breaks off.

Robert H Probert
Robert H Probert Technical Services

Garner, North Carolina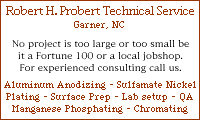 ---
December 11, 2012

Thanks for your replies.
If the anodized layer is very brittle, it is then not able to withstand the impact during automatic assembly.
Can Pi
- Singapore