World's #1 finishing resource since 1989
No login needed: Chime right in
topic 59020
420 C-1 stainless steel gets rusty fast
November 4, 2012
Q. What kind of chemicals do we need to use so that the surface of 420 steel won't be rusty and the preservation will last at least 2months? What kind of process do we need to prevent rusty surface? Becaus rusty surface is one of our biggest problems that we face now due to customer complaints that our profile that they receive is rusty surface. Can you help.me?
Josua Balingcos
new production engineer - Malaysia
---
December 4, 2012
A. Josua,
The simple answer is that you need to passivate. The downside is that 420 is towards the lower end of the scale for corrosion resistance of stainless grades, and even with the best possible passivation, how long it will last without starting to rust depends entirely on how much of a corrosive environment it's in.

Ray Kremer
Stellar Solutions, Inc.

McHenry, Illinois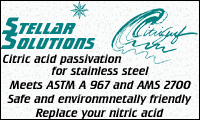 ---
December 6, 2012
A. Josua.

First off, your components must be thoroughly cleaned/degreased.I would look for a proprietary corrosion preventative solution that can be dipped/sprayed.
I use a proprietary solution -40-50 % Triethanolamine and 5-10% Diethanolamine.
Regards,
Eric Bogner
- Toronto, Ontario, Canada