World's #1 finishing resource since 1989
No login needed: Chime right in
topic 59001
Anodized balcony railings on oceanfront condo - some are fine, some are pitting
October 26, 2012
Q. We are currently working on a fifteen story ocean front condo and are replacing the balcony railing. We completed one tower about a year ago and the vertical balusters and the posts have started to pit. The horizontal top cap & bottom channel are fine. This was manufactured in our shop it is a welded system the alloy is a 6063-T6 except the post which is a 6061-T6. This is a clear anodized finish class 2 / 204R1 30 minute which we have had no problems with in the past. We have switched to a 215R1 / 1-hour in a effort to improve the finish, but our customer is not happy and we have never had this happen before. Our anodizing company is in complete denial. Any idea what could of happened? Is there any way to fix the problem the customer wants us to replace the whole tower.
Richard Prince
- Riviera Beach, Florida
---
October 26, 2012
A. There is an abundance of published data that anodized aluminum will not stand up in ocean front salty atmosphere. Also, in the case of some parts exceeded others, then the "seal" was more complete on some and in others originated from an old contaminated (Florida Chloride, and calcium) solution.

Robert H Probert
Robert H Probert Technical Services

Garner, North Carolina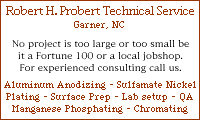 ---
October 27, 2012
A. We have regular orders for anodizing jobs like those rails. I guess those pittings occur due to
1. Insufficient sealing, or
2. Insufficient coating, or
3. All of the above.

Number 2 can happen without the anodizer's knowledge especially those who run on constant voltage. The anodizing tanks are usually air agitated, there's the possibility of cut-off in one of the pieces midway into anodizing. We run on constant current, thus, we can always detect any cut-off.
Dado Macapagal
- Ont., Canada