topic 5985
Corrosion Problem on Zinc w/Clear
2000
We manufacture a product that is made from .059 steel and is finished with zinc w/clear chromate finish. We are experiencing corrosion problems where we are at the point of see "white rust". What is causing this corrosion and what preventative actions can we take to eliminate this corrosion problem? Your input will be greatly appreciated!
Jerry Huber
- Columbia, South Carolina
---
2000
Quite simply, the clear chromate is not adequate for the conditions it is being used in. Blue is better and yellow is still better and OD is the best. There are some like green that have quite decent resistance, but I have never used it. Talk to Ken Lemke, CFS, or your current chromate vendor.
James Watts
- Navarre, Florida
---
2000
I agree with the first response. The blue chromate is too thin and will not offer the degree of protection that you require. My suggestion would be to go to your vendor and request a yellow chromate that can be leached back.
When you do this, you are applying a thicker yellow chromate, and then going to a double rinse. After that, a dip in a proprietary alkaline solution will leach out the yellow color, leaving a more clear color. This clear film will give excellent protection with regard to the ASTM B117 [link by ed. to spec at TechStreet] Salt Spray test.
Also, please be sure to cure your chromate correctly. Never allow it to be exposed to temperatures over 145 degrees F., as it will dry out the film, causing microscopic cracks to form. These cracks will shorten the life of the product.
Hope this is of help to you,
Ed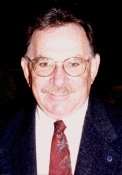 Ed Budman
- Pennsylvania
---
2000
It's hot and humid in S.C. so maybe you are drying the parts too hot and sealing them before they are cooled. This will make them sweat in the container and the zinc will corrode and turn white where the moisture is. Just let the parts cool down a bit before you close their packaging.
Frank Zemo
Parsippany, New Jersey
---
2000
All of the above are correct except for one thing. You don't have to do without the blue color if it is desirable. There are new chromates on the market which have as much or more corrosion protection than yellow but are blue and do not contain hexavalent chromium
Gene Packman
process supplier - Great Neck, New York
---
2000
Can you reference a published article containing independent research, Gene?
What with zirconium and silanes and organometallics, and this and that, you will surely be correct some day, Gene, and hopefully you are already right today! But after reading similar claims in sales literature for 20+ years, only to find them refuted again and again and again in the published literature, I have learned not to accept it until someone points me to an independent research report that confirms it.
Ted Mooney, P.E.
finishing.com
Pine Beach, New Jersey
---
2000
Ted, There are no research papers that I can point to since these are proprietary technologies that have been developed by several suppliers both domestically and in Europe. The main reason is a response to the European communities exclusion of hexavalent chrome (including chromates) for future automotive applications. Many of these products have been tested to a variety of industry specifications e.g. Volvo, GM, etc.
Gene Packman
process supplier - Great Neck, New York
---
2000
We have letters at this site (Tim Neveau) that say (hex) chromate is dead to the Automobile Tier One suppliers and that we have to supply the approved non-hexchrome coatings and top coat.
As someone once said to me, if you dip the parts in chocolate, you will improve the corrosion resistance, so I don't know how much the wax or Haagen Daz, or whatever they are using to meet salt spray resistance will work under the hood, but I suppose we will find out. Even a tree hugger needs a car that won't corrode spontaneously with contact to the earth, and we especially need airplanes that won't dissolve in flight. I still would like to see the Electroplater's Society fund some work that develops a designers guide for zinc, cadmium, aluminum, and other metals that take a chromate conversion coating that will cover the new chemicals that we are going to be using.
Vendors are scheduled to speak on alternates to chromate conversion coatings and Replacement of Hex Chrome at the Philadelphia, PA "Finish it better VIII" on ..
Tom Pullizzi
Falls Township, Pennsylvania
---
2000
Tom! Chocolate would be wonderful! Well, at least the part would be black and non-chrome.
Seriously though, hex chrome really is on its way out for automotive. All major OEMs have written it into their banned and restricted materials lists. The lists are published and available. Things have been pretty quiet lately because everyone has until January 1st, 2003. That may be why you might still doubt we will actually go through the change. We will suddenly see a big change as the deadline hits and everyone figures out what is happening and scrambles to become compliant.
Believe it or not, there are trivalent chrome systems that have similar corrosion resistance to hex chrome. Granted, the material costs are higher, and an additional topcoat/sealer is usually required, but it can be done. Plus, new technologies are being introduced all the time.
Non-chrome is a whole different subject, but since tri chrome is next on the hit list, you can bet automotive companies like mine are asking for it ASAP.
Tim Neveau
Rochester Hills, Michigan
---
2000
Tim, I don't doubt that it will happen.
Gene, the fact that the newest chrome-free technologies are proprietary is no excuse for people to base engineering decisions on sales claims.
I am as eager as anyone to see the end of hexavalent chromates because the surface goes out to the public where everyone touches it and babies can even chew on it.
But when the platers, the government, the environmentally conscious, the auto companies--in short, everybody--wants to believe the vendors' claims that the chrome-free alternatives are just as good, that's exactly the time when we should all be demanding proof, not suspending the scientific method because it might introduce delays.
Ted Mooney, P.E.
finishing.com
Pine Beach, New Jersey
P.S. I am old enough to remember the TRIS-Infantwear debacle. Back in '74-'76, rabble-rousing exposé-style TV shows decided that the flammability of infantwear would be a fabulous attention-getter. What could be a more powerful image than babies on fire?
Subsequently came near-daily "news reports" of crib fires caused by the manufacturers being too selfish to apply flame-retardant. Virtually overnight every manufacturer of sleep wear and infant bedding had to treat their products with TRIS. My recollection is that Congress even passed an emergency statute demanding it. Of course, after virtually every single baby in America had been ensnuggled in TRIS-treated sleepwear each night of their infancy, only then did we realize how dangerous the product was to which we had intimately and prolongedly exposed an entire generation of babies. Maybe that's why people of that age like rap music :-)
If chromate substitutes are just as good, we should be moving to them. But if we are wrong, the fact that the government and environmentalists and auto companies clamored for them will be no excuse for having suspended rigorous equivalence testing.
---
2000
Early White corrosion on Zinc plated parts with clear chromate.
Is the white corrosion on the parts a new problem? If so I would check the pH and possible contamination of your last rinse water. A little salt will go a long way in starting the corrosion process.
Experiment:
Take some parts out of the chromate tank and rinse them in fresh water off line. See if they turn to white rust . If they don't turn the problem is in the rinsing water. Look at the last source of water the parts touch. Look at pH and dissolved solids (salts) - If barrel plating the water at the bottom of the barrel dump area often get contaminated.
Good Luck !
Please let me know what you find out
Danny Tynes
used electroplating equipment
- Birmingham, Alabama


If you have a question in mind which seems off topic, please Search the Site