World's #1 on-line resource since 1989
-----
MSDS Required for Plated Parts?
A discussion started in 1999 but continuing through 2019
1999
Q. We are a zinc plating job shop. Some of our customers are requesting MSDS's for our product. This includes zinc and chromate. Is there any industry standard for this?
Jeff G
- Punxsutawney, Pennsylvania, USA
---
1999
A. This is how I responded to our customer's request for MSDS on zinc & chromate coatings.
"I have investigated your request for Material Safety Data Sheets (MSDS) for materials applied to your parts. Please find enclosed MSDSs for materials including oil, wax and zinc metal that ORP employees may come in contact with as a result of handling rods processed by MMF.
"I have contacted several of our chemical suppliers and have determined that no MSDSs for dried chromate conversion coatings or zinc phosphate coatings are readily available. Also, according to 29 CFR 1910.1200 (regarding Hazard Communication) articles are exempt from the standard to maintain MSDSs.
An article is defined in the standard as:
"A manufactured item (i) which is formed to a specific shape or design during manufacture; (ii) which has end use functions(s) dependent in whole or in part upon its shape or design during end use; and (iii) which does not release, or otherwise result in exposure to, a hazardous chemical, under normal conditions of use.'
"An example of the difference between an affected chemical and an article might be that if you purchase turpentine at a hardware store, you are provided an MSDS. If you purchase a hammer with a painted handle (or zinc plated nuts & bolts), no MSDS for the coating is required.
"As a result of numerous discussions with MMF's chemical suppliers and other sources (including the editor of "Products Finishing" Magazine), I have determined that I am unable to provide MSDS's for the coatings as you requested. Further, I have found no evidence of any governmental requirement for manufacturers to maintain MSDS's for finished coatings which are adherent to articles they manufacture.
"Please let me know if I can be of further assistance in this matter."
Craig S
[last name deleted for privacy by Editor]
- Cincinnati Ohio USA
---
1999
A. I took quite a different approach in a talk I gave on ISO14000 issues at the AESF Empire State Regional last week.
In it, I said that, 5 years ago, Cadillac in Canada was so concerned about exposure of skin to chromated parts, that they started to make their workers wear gloves during handling.
So, even if no MSDS are available, I feel that someone (e.g. AESF, MAMF, NAMF, MFSA) should get the information on this issue, and come up with something that will protect the jobshops from potential liability, not to mention protecting people from exposure to hexchrome from the "chem film".
The larger jobshops who do this on their own will be doing themselves a favor. The smaller jobshops should gang together to find the information.


Tom Pullizzi
Falls Township, Pennsylvania
---
1999

If we were talking about finished articles that were chrome plated or gold plated, or anodized, or powder coated, I would agree with Craig. Because, as far as anyone knows, there is simply no reason for concern about exposure to such parts or handling of them, so why fill the world with meaningless paperwork if the law doesn't require it.
But I have to agree with Tom that in the case of chromated parts we may not yet have hard & fast proof that chromated parts are hazardous to handle, but many of us certainly have our suspicions. And in such a case the "no controlling legal authority" approach -- which our politicians are able to use to protect themselves because they write the laws -- is unlikely to work as well for the rest of us :-)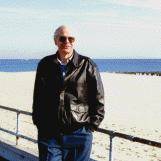 Ted Mooney
, P.E.
Striving to live Aloha
finishing.com - Pine Beach, New Jersey
---
---
To minimize search efforts and to offer multiple viewpoints, we combined previously separate threads onto this page. Please forgive any resultant repetition, failures of chronological order, or what may look like readers disrespecting previous responses -- those other responses may not have been on the page at the time :-)
---
---
2000
Q. I am the Compliance Manager for an electroplating / phosphating company in Cincinnati. One of our customers has requested that we supply them with Material Safety Data Sheets (MSDS's) for every chemical we supply to them (a slight stretch of the OSHA requirements, in my opinion).
We apply zinc with clear/yellow/olive drab chromates and also zinc phosphate with oil/wax to their products. I have no problem supplying MSDS's for zinc, oil & wax because we supply those materials in their "pure" form to our customer.
However, I am reluctant to give our customer MSDS's on the chromates and the zinc phosphate concentrates because those materials are NOT what we provide to our customer. i.e. The concentrates contain HNO3, H2SO4, CrO3 etc., chemicals that are the media through which we produce the final coatings and are not materials that are actually SHIPPED to the customer.
I have contacted our supplier of zinc phosphate and he stated that they do not have an MSDS on the actual zinc phosphate coating itself.
Has any one else run into this problem and if so, how was it handled?
Craig Slanker
- Cincinnati, Ohio USA
---
2000
A. I've never been involved in the preparation of such MSDSs, but it is something that is sometimes done. I have seen them, for example, shipped with the replacement brake disks for electric motors.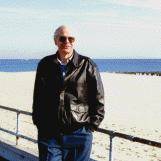 Ted Mooney
, P.E.
Striving to live Aloha
finishing.com - Pine Beach, New Jersey
---
March 23, 2018
A. The main problem here is California's Proposition 65 -- which has deemed that almost everything (including chrome) causes some form of cancer or reproductive harm and requires businesses to identify them. It also lists carbon black, which is often used in these parts to make them black.
Deanna Thomson
- Holly Hill, Florida
---
March 2018

Thanks Deanna. The other comments on this thread are pushing 20 years old, and are thus rather dated in our changing world with its trivalent rather than hexavalent chromate coatings, with the switchover from MSDS to SDS sheets, with RoHS compliance and 'substances of concern', etc. This week we learned that coffee has that same labeling requirement as well.
opinion! I taught safety in plating shops for several years and wrote some booklets on the subject; my personal opinion is that California's proposition 65 has done harm to people's safety. When every box of washers & nuts that an automobile mechanic opens warns him that he should scrub his hands with hot soap and water if he accidentally makes contact with one, after a very short while he is not going to limit himself to blowing off this warning, but he also is unlikely to give a second thought to those same warnings about asbestos & cadmium. When every flex connector for gas stove & gas dryer warns me that natural gas is carcinogenic and causes birth defects, I'll clearly have no respect for the same warning on kerosene heaters.
Regards,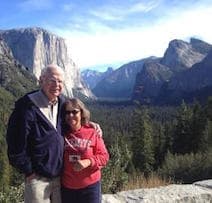 Ted Mooney
, P.E. RET
Aloha -- an idea worth spreading
finishing.com - Pine Beach, New Jersey
---
---
January 31, 2019
Q. Hey Reader, I am working in a automotive parts manufacturing company in India and in trouble for last 3 days -- and not getting any solution for the problem: one of my customers wants me to submit mds data for a part called round head screw (M5x16).
It is a plated part with a plating of (mfznT5 k coating) it's easy to submit mds for raw material but I am not getting any data from web or anywhere about the composition of plating ... so how can I submit mds for plating of this part? If someone can help me then please do it.
Deepak Bhardwaj
automotive parts manufacturing - imt manesar, India
---
February 2019
A. Hi Deepak. Thanks for updating this conversation. A lot has changed since 2000 and it would be interesting to get people talking about this subject again :-)
(See also topic 41500)
Regards,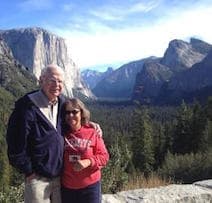 Ted Mooney
, P.E. RET
Aloha -- an idea worth spreading
finishing.com - Pine Beach, New Jersey
---
February 7, 2019
A. On a lark, I just google searched "MSDS Stainles steel" and to my surprise got a lot of results! You can tell the people who wrote these were doing their best with a clearly absurd proposition, since the traditional "routes of entry" for chemicals do not apply for a metal, and reporting on "toxicology information" for the component metals even though this is an alloy.

Ray Kremer
Stellar Solutions, Inc.

McHenry, Illinois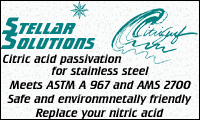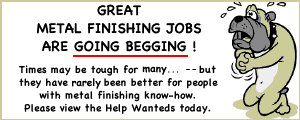 Plating Shop Manager [Salisbury, MD]
Junior Quality Engineer [Santa Clara, CA]
Plating Process Engineer [Wenatchee, WA]