Where the world gathers for
plating, anodizing, & finishing Q&As since 1989
-----
Vapour degreaser issues
October 19, 2012
Q. We have a 3-tank vapour degreaser running "trike". We recently have attached a water separator to tank 3 (vapour tank; all inputs from condensate trough go into it and water is separated & TCE pumped back). Ever since that we have noticed:

1. Temperatures in the tank don't cross 80 °C on the thermostat -- strange but see a lot of vapours (logically confusing me as boiling point is 87 °C). Yes, I have checked using different thermocouples, but same issue.

2. Vapours from tank 3 float around to the other two tanks? Ghost cloud issue?

Also, on a side note, would it be a good idea to add air agitation to tank 1 (hot solvent cleaning)?

Any inputs regarding this? I am pretty stumped with the developments.
AJ Patel
- Ahmedabad, Gujarat, India
---
October 24, 2012
A. I would not recommend using air agitation since it will increase solvent emissions. Mechanical agitation or double dipping may help to improve degreasing.

Lyle Kirman
Lyle Kirman
consultant - Cleveland Heights, Ohio
---
October 25, 2012
A. Visible vapour is condensed droplets of solvent and must therefore be below the boiling point.
The solvent in the tank is contaminated by the oil it has dissolved and will therefore boil at above 87 ° C.
Air agitation is a very bad idea for many reasons. It will blow solvent vapour out of the degreaser increasing emissions. TCE is an anesthetic - it is difficult keeping staff awake without this!
It will cool the solvent increasing running costs and it is something else to go wrong.

I have no idea what ghost clouds are - I don't think that you celebrate Halloween in India. Perhaps some of our ghosts have travelled East.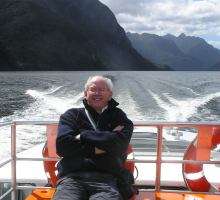 Geoff Smith
Hampshire, England
---
October 27, 2012
Q. No, the issue is vapours form below 87. Have decanted the tank and added a fresh solvent. Let's see what happens.

As for "ghost clouds" - they are just vapours floating around on tank 1 and tank 2 when logically they should be forming a column above tank 3 and then condensing back.

Thanks for the input. Would immediately stop the air agitation but my temperature issue remains.

Any suggestions for optimizing the process more? Hot rinse + cold rinse + vapour is best right?
AJ Patel
- Ahmedabad, Gujarat, India