Where the world gathers for
plating, anodizing, & finishing Q&As since 1989
-----
Titanium anodizing defects - veins (due to previous machining?)
October 11, 2012
Q.
I have a systematic "defect" after Anodizing of Titanium parts. It is a kind of lineal marks (as veins or grains) appearing just in some surfaces of the part (for example only in the horizontal surfaces of the plane, but not in the vertical ones).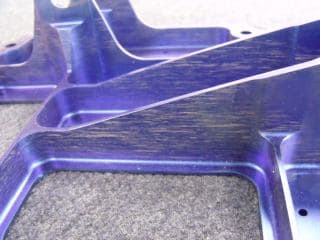 After investigations, I suppose the root cause is the formation of alpha phase during machining the part due to excessive heating, and this alpha case is revealed after anodizing (taking into account that previous etching do not remove alpha case completely).

Someone who have had the same case? Do you agree with the root cause?
What could be the consequences of these veins in mechanical and corrosion properties?

Thanks
Fernando Garcia
- Madrid, Spain
---
June 11, 2014
Q. We are also experiencing the same problem. Our parts are machined from a plate of Titanium alloy (Ti6Al4V) and we too only get this effect on vertical surfaces.

We have managed to eliminate the problem by mechanically modifying the surface before beginning with the wet process (i.e polishing with abrasive disc or dry abrasive blasting with alumina).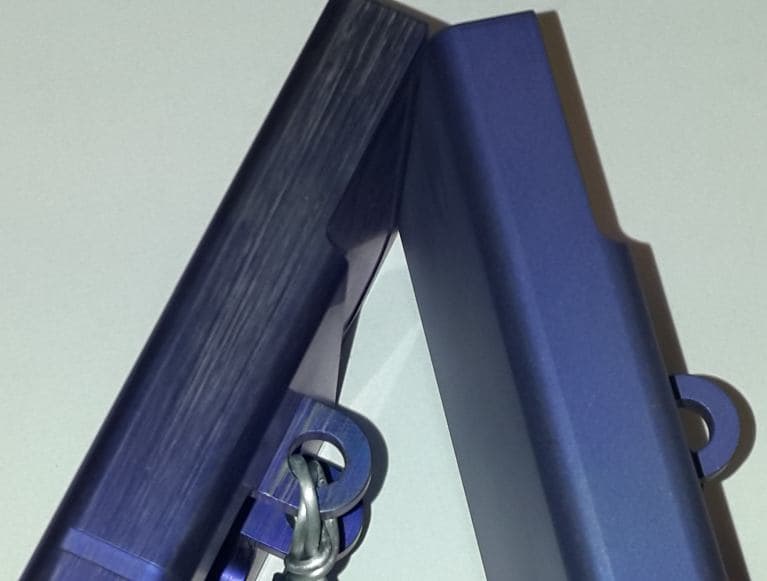 "Defective" part on left - No defect on right
Using abrasive disc followed by applying the normal anodizing process produces uniformly blue-violet appearance required by the specification. However, scuffing 32 parts with abrasive disc is highly labour intensive and not really practical. Alternatively, we have done alumina blasting which is less labour intensive but it produced dull/matt purple parts which are not as attractive.

Does anyone have a root cause for this effect because I would like to solve it without any mechanical operation.

Our Tank:
H2SO4: 180 - 220 g/l; Temperature: 16-18 °C, Time: 15 minutes
Sello Malefane
aerospace - Johannesburg, South Africa
---
June 12, 2014
A. We think that the best option is to eliminate all alpha- or other oxides, formed on the titanium surface during mechanical cutting. The pre-anodizing step must be a treatment tank where only all titanium oxides are removed without damaging the actual metal. It can be safely done electroless or under small current. After such pre-cleaning the titanium anodized colors are uniform and of excellent quality.

The same type of pretreatment is a must prior to hard titanium anodizing or titanium blackening.

adv.
Contact me for more information.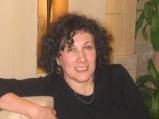 Anna Berkovich
Russamer Lab

Pittsburgh, Pennsylvania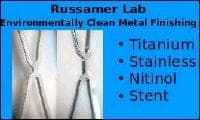 ---
September 8, 2014
A. I have seen this outcome in finishes due to two different root causes. Cause 1 was due to improper scale removal in the pretreatment process of the substrate. Clean substrates equals clean quality finishes. Normal alkaline cleaners and degreasers will not remove heavy scale or oxides created from heat treating or heat generation in milling. Cause 2 was due to improper etching of the substrate. Surface roughness impacts uniform oxide growth.
I process complex geometries of ti6al4v for orthopedic implants which have very tight measurement tolerances so increasing my etch time for proper material removal was critical. If you have plenty of room for removal you can try increasing your etch time for a more uniform etch.
Persulfate/flouride etch will remove heavy oxide scale as well depending on what your desired finish needs to be. Removing an oxide with etching tends to leave a dull appearance in the color achieved. High temp NaOH with DI will remove oxides with no material removal for a pretreatment process. Hardened scale may take an hour or more to dissolve. Hope this helps you guys out in achieving your finish.
Brad Arnold
Medical implant/implement surface finishing - Memphis, Tennessee, USA