topic 58894
Material Defect or Anodizing Defect?
September 18, 2012
Q. Hi! All,
Been facing some serious problems of late with 6061-T6 Aluminium extruded material. Please see if any of you can offer me some advice -- will be grateful for any inputs.
We have successfully churned out this same grade for the last few years. We anodize to MIL-A-8625-F, 80 microns. We get a uniform dark grey almost black shade - Type III Class 1.
Of late with some batches we are facing the following defects: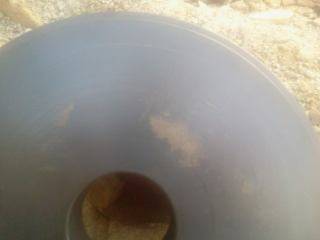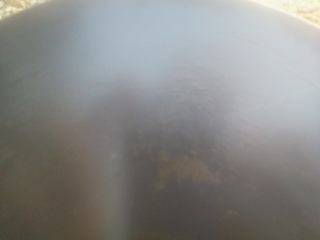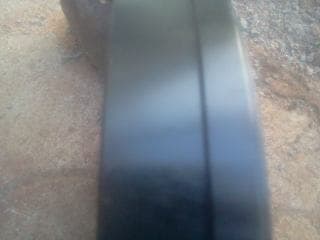 - Golden colored spots randomly distributed over the cross section of the plate that we machine.
- Also, wrinkled or wavy texture on the face and also the outer diameter surface - on some of them we can actually touch and feel its waviness! The strange thing it is entirely UNDETECTABLE until after it comes out of hard anodizing! Even checked the surface right after machining and then after the pre-cleaning De-Ox solution before anodizing - but there is nothing detectable at all. I am baffled! At the outset, it appears like a raw material defect but just want to be sure that it has nothing to do with our anodizing. Attaching some pics. If anyone needs anything more in the form of details, please ask. Need to sort this one out asap ... Thanks in Advance,
Ravi
Ravi Rao
- India
---
September 26, 2012
A. Ravi

It looks like a material related defect.

To confirm, I would strip and examine, and then re-anodize to see if it re-appears in the same spot. Then strip, take a skim cut (~.003") off the face and re-anodize. Another option is to have one of your competitor friends anodize it. If all options show the defect in the same location(s), I would consider that conclusive.
Willie Alexander
- Colorado Springs, Colorado
---
September 28, 2012
Dear Willie,
Thanks for your kind response.
In fact I already tried all that you have suggested and the defect still appears. Also renewed all the solutions in the process and reconfirmed that the culprit was not the anodizing process.
It does appear to be a material defect - something related to either the heat treatment or the liquid metal solidification stages during the manufacture. Have initiated the matter with the mill and await the findings. Will post findings when they report something.
Ravi Rao
- India
---
September 28, 2012
A. Ravi

In a past life, we had a customer who purchased large lots of extruded aluminum, and they would slice a sample off the end of each bar and have them anodized to see if a similar flaw was present. This minimized the number of parts exhibiting the noted condition.
Willie Alexander
- Colorado Springs, Colorado
---
October 2, 2012
Thanks Willie,
Q. Tried that too, unfortunately, no pattern emerged, the rods inside had the defects even if the ends did not exhibit any.
Ravi Rao
- India
---
October 2, 2012
A. Hi Ravi.
That part sounds a bit strange because extruded aluminum, as far as I know, is continuous extruded and then sawed to length. So some phenomena that occurs near the middle of a sawed off length, and not at the ends, seems to me to lack cause-and-effect, although I suppose it could have something to do with straightening rollers or something like that.
Regards,
Ted Mooney, P.E. RET
finishing.com
Pine Beach, New Jersey


This public forum has 60,000 threads. If you have a question in mind which seems off topic to this thread, you might prefer to Search the Site