Where the world gathers for
plating, anodizing, & finishing Q&As since 1989
-----
Non-electrolytic pretreatment for alloy which will be electroless nickel plated
September 6, 2012
Q. We are doing Electroless Nickel Plating (High Phosphorus) on Alloy steel material of the following composition
Elements are : Carbon : 0.05-0.15% / Silicon: 0.5% / Manganese : 0.6% max / Chromium : 1.9-2.6%
Molybdenum: 0.87-1.13%
The adhesion is checked by Bend test conducted on test specimens, as per ASTM B571 [affil. link]
We have tried many pretreatments cycles using different acid dips and alkaline electrolytic cleaning baths but the adhesion is poor. Woods nickel is giving excellent results, but will be impractical on the actual component as it is too large in size.
Our aim is to avoid any electrolytic cleaning or activation cycle activation cycle altogether because the component will be taken up for plating immediately after grinding and will be in very good condition
requiring minimum cleaning.
Can you suggest an alternative non electrolytic activation cycle which can give good adhesion on the above alloy steel .

Raul Talib
- Ambarnath, Maharsahtra, India
---
September 8, 2012
A. Try the following:
1- Physical cleaning to water-break free surface (thorough hand scrubbing with scotch-brite pads wet with water and a good liquid detergent that leaves no residue.
2- Immersion in 50% HCl to uniform gassing
3- No rinse or brief in case drag-in of HCl to EN bath is excessive
4- EN
Bill Marrufo-Mexico
Guillermo Marrufo
Monterrey, NL, Mexico
---
September 10, 2012
A. There are some contradictions in your post. If you can EN plate it, how can it be too large to put a Woods Strike on it??
If the part is in such wonderful condition condition coming off of the grinder, why did you have problems cleaning and activating the parts with somewhat conventional methods?

You have a moderately high Moly content of your part which makes activation a bit difficult.

A variation of the previous post would be to do a solvent wipe after the soap and water step and then us a fine pumice/water slurry to remove the oxides that result from the heat from grinding.

Are your grinders using a water soluble coolant??
Are your grinder using a correct grit size and media wheel for the grind? Are they doing a "spark out" pass after they finish the rough grind?
James Watts
- Navarre, Florida
---
September 12, 2012
Thank you for the reply but would clarify as under :

Q. The components are long hollow pipes around 8.4 mtrs long, several of these will be supported horizontally in a slotted fixture which will carry them through the pretreatment and ENP line. The current requirement for one batch of pipes would be around 6000-7000 amps and the slotted fixtures will have to be modified to be able to carry such high current. Also, since the pipes will be racked with small gaps between them, we may not get good coverage of strike nickel in some areas. Similarly the narrow gap will make it difficult for us to apply solvent or pumice very effectively.
The grinding operation is actually a belt grinding/polishing operation with water soluble coolant. Progressively finer grits will be used to achieve a very fine finish and plating will be carried out immediately after grinding. Hence cleaning /pickling required will be minimum.
Can you suggest a chemical process to treat alloys with high molybdenum content?

Regards
Raul
Raul T
- Ambarnath, India
---
September 28, 2012
A. Sorry but I am a bit lost.
I do not recognize the steel that you are using, but it resembles some of the 3xxx or 4xxx series. Both respond well to alkaline cleaning followed by an acid etch and then into the EN. With excellent rinsing.
Adhesion problems are normally a cleaning/etch issue. Do you have any agitation in your alkaline tank, either solution or parts?
What is the possibility that the parts are being handled with bare hands or dirty gloves?
What pattern is there in your adhesion problem? Where, shape and size.

Many years ago I had a problem with over cleaning and over etching 4340. This put a very very tiny carbon smut layer on the test panels and they would have thousands of tiny blisters which on sitting would become larger.

Have you tried a proprietary acid with a touch of fluoride in it.
Since none of us have the information that you have as to what has failed, we are a bit of a loss to help in a significant way.

If you can not afford a good consultant, I would cut a scrap pipe into lab size pieces and then try many cleaners with different acid combinations and see if I could find a combination that works. You might want to grit blast a sample part section and go straight into the EN.

Finally, are you sure that your EN solution is not the problem. One place that I worked had the spaghetti tube heat exchanger leak steam with chemicals into the EN. The boss would come in, change out the tank and it would work for a day or two, he would leave and the tank would have terrible adhesion problems again. I very nearly got fired. When I told him what the real problem turned out to be, I got a "oh really".I would get the OEM for the EN involved. If you are not plating parts, they are losing money. If it is a home brew, then you have a big problem.

I would also start out trying to plate some plain 1010 steel test panels. Grit blast and process.
James Watts
- Navarre, Florida
---
October 2, 2012
Q. Thanks for the reply. Our clarifications are as under.

1)There is no agitation in the alkaline tank. The parts are not being handled at all.

2)Only test pieces about 80-90 mm in length have been plated so far. The idea is to establish the correct process sequence before undertaking the full sized components

3)The adhesion is being checked by 3 methods: a) heat quench, b) burnishing, c) bend test. No failure of adhesion is evident with heat quench or burnishing test. However the bend test, which is perhaps the most severe of the three, the plating flakes off in the bend portion. This phenomenon is not observed with carbon steel components.

4)We will consider the possibility of over etching, and take trials on test pieces with shorter cleaning cycles.

5)Cleaners with different acid combinations including fluoride based proprietary acid baths have been used. Only the woods nickel strike seems to be working. We will try grit blasting as an option.

6)The EN solution is not likely to be problem. It is a proprietary solution which is giving good results on other components. Also with the alloy steel, adhesion problems are evident only in the bend test and as such the plated component looks fine otherwise. Our emphasis on the bend test is because it is a customer requirement and the plating quality will be covered under warranty clause.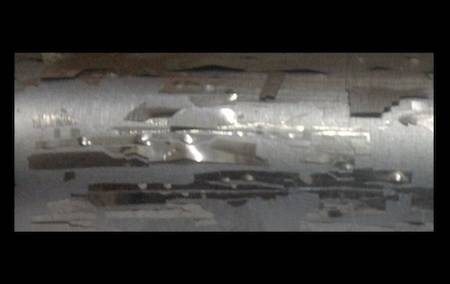 Awaiting for reply
Thanks

Raul T
- Ambarnath, India
---
November 24, 2012
A. Can you disclose what is the Nickel content in your steel?
Gabriel Schonwald
Bnei Berak, Israel