Where the world gathers for
plating, anodizing, & finishing Q&As since 1989
-----
Does a zinc plater need to pre-bake parts before plating?
August 30, 2012
Q. I'm getting more confused by the day, I know that you need to bake parts after zinc plating and before chromate but I am being told that per ASTM B633 [affil. link] you may be required to pre-bake for up to 24 hours and up to 24 hours after plating. I was under the impression that you only needed to bake at 375 °F for 4 hours after plating.

Is there someone that can tell us really what we are required to do regarding these baking requirements?
Vince Wheeler
Sales/ estimating/ Partner - Minneapolis, Minnesota, USA
September 5, 2012




A. Dear Vince,

You must pre-bake the parts if the tensile strength is more than 1000 MPa, as a stress relieving treatment. This process could be already done after heat hardening, but you should ask whether it is done or not.

This process (190 °C for three hours, I think) relieves the hardening stress that could come after hardening, making the parts fragile.

We have done it for years after hardening for some zinc plated 10.9 bolts and we have no problems with fragile parts. Not doing the pre-bake is assuming some risk of having fragile (not because of hydrogen, but hardening stress) parts.

Hope you have the answer now! Regards,

Daniel Montañés




Self-Drilling Fasteners Manufacturer - Cañuelas, Buenos Aires, Argentina






---

September 5, 2012




A. Hi Vince,

Pre-plate stress relief is normally considered necessary on steels with a minimum hardness of around 40 HRC, although you will see some variation around this number.

Try AMS2759/9 [affil. link] for advice on pre- and post- bake requirements. Simply putting the parts in an oven for 4 hours at 375 °F may have over-simplified things for you.

Brian Terry




Aerospace - Yeovil, Somerset, UK




---

Hi Vince. If you are having trouble interpreting some text in ASTM B633 [affil. link] , hopefully our readers can help you interpret it. But please don't even dream of offering plating to a spec that you don't have on hand :-(
Regards,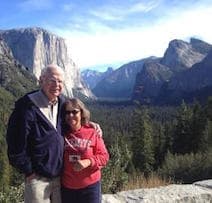 Ted Mooney
, P.E. RET
Striving to live Aloha
finishing.com - Pine Beach, New Jersey
---
September 6, 2012
Q. I received this from a heat treater as I asked if they bake after their process if they know they will be plated.

"Most parts are tempered after hardening but baking or tempering prior to plating would not have any effect on embrittlement after plating. Parts should be tempered at a higher temperature than baking. That should be up to mfg. specs"

I have seen prebaking waived on prints but wonder why if its required per specs.

Vince
Vince Wheeler
[returning]
- Fridley, Minnesota, USA
---
September 7, 2012
A. Hi Vince,

There seems to be a little confusion here. Tempering is a heat treatment, normally carried out by specialist heat treatment companies.

Pre-plate stress relief is normally carried out on parts that have been hardened and tempered and often machined to relieve stresses within the material. It is done at much lower temperatures than heat treatments (i.e. 375 °F) for much shorter periods, although that can be dependent on the material strength and hardness.

Neither of these processes are a substitute for post-plate baking for hydrogen embrittlement relief, this is another heating operation that is required after hydrogen has possibly been introduced into the material by the plating process.
Brian Terry
Aerospace - Yeovil, Somerset, UK
---
---
July 7, 2015
Q. We are having issues with zinc plated steel parts and have been told that a pre-bake with a 24 hour hold before plate is necessary to reduce problems; any thoughts on this?
Ruth Zelaya
- Hillside, New Jersey USA
---
July 2015
A. Hi Ruth. That would depend on what kind of problems you are having with what kind of parts :-)
May we assume that the problem you are having is hydrogen embrittlement of parts of hardness greater than about 40 HRC? If so, yes, the advice from Daniel and Brian is to pre-bake, and it may be required by the spec you are plating to.
If the problem is other than hydrogen embrittlement, pre-baking has the potential of making the parts harder to clean, thus increasing the "issues" :-)
Good luck, and regards,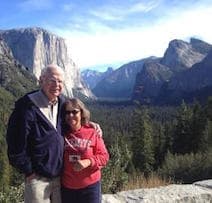 Ted Mooney
, P.E. RET
Striving to live Aloha
finishing.com - Pine Beach, New Jersey
---
July 8, 2015
A. Hi Ruth,

This may also be to do with pre-plate stress relief. Are you being asked to bake prior to plating? If so this is probably to prevent distortion and is commonly called up on high strength steels.

If the parts have already been plated and you are now being asked to bake for 24 hours then this is a bit like shutting the gate after the horse has bolted. Any damage caused by hydrogen embrittlement (which is a time dependent effect and irreversible) will already have happened! Let's hope the case is the former rather than the latter.
Brian Terry
Aerospace - Yeovil, Somerset, UK
---
July 8, 2015
A. I would infer from the text (correct me if I am wrong) that the 'issues' relate to hydrogen embrittlement. If that is the case, I recommend that you take a look at ASTM B849 [affil. link] which has recommendations for pre-plate baking and ASTM B850-98 [affil. link] which has recommendations for post-plate baking. You can get the details from these specifications, but here is one example: an article with a Rockwell "C" hardness of 36 and a tensile strength of 1110 MPa should be baked for 3 hours before plating and 10 hours after plating.
From what I see in the 'real world' ASTM B849 [affil. link] is seldom followed and ASTM B850-98 [affil. link] is followed some of the time, with many specifiers relying on old 'rules of thumb' such as a 4 hour bake at 400 °F. B850> specifically says that baking will only reduce the risk of hydrogen embrittlement, not eliminate it. If hydrogen embrittlement is the 'issue' then perhaps the best option would be either a zinc-rich paint (Magni, Doerken, or perhaps Geomet) or mechanical plating.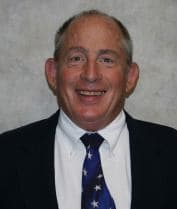 Tom Rochester
CTO - Jackson, Michigan, USA
Plating Systems & Technologies, Inc.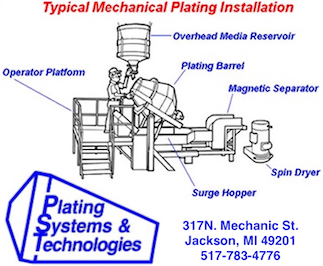 ---
August 21, 2019
A. I thought I would clarify some details on this topic despite it being several years after posting.

For high tensile steels that require plating (above 1450 MPa), we call out a pre-plate stress relief (AMS 03-04).

This is because if the steel becomes hydrogen embrittled during/ after plating. The presence of machining induced residual stresses may exacerbate the hydrogen embrittlement and cause catastrophic failure of the part.

The pre-plating stress relief (200-230 degrees for 24 hours for steels above 1801MPa) is intended to relax all of the residual stresses. Therefore, if nasty high pressure nanoscopic hydrogen bubbles form, the increased stresses associated with it are not combined with the machining residual stresses.

This should also be combined with the essential post plate hydrogen de-embrittle (190 degrees for ~20 hrs) within 4 hours of leaving the plating bath. The second bake causes diffusion of hydrogen back out of the steel.

If completed after 4 hours, the damage is already done. No amount of baking is going to reverse the damage and the entire part goes in the scrap pile.
Sam Holdsworth
Senior Aerospace Metallurgist - Warrington, UK